The Cotswolds Distillery is one of the more exciting new whisky operations in the UK. Based near Shipston-on-Stour in Oxfordshire, they've already made a name for themselves as producers of excellent spirits, including a fine Dry Gin, Espresso Martini and even a Cream Liqueur.
But it's the whisky that many people have been waiting for – and that takes the longest. As it happens, there has been a lot of noise made about their first whisky release, which we're very excited about here at Nickolls and Perks.
We thought it would be an excellent idea to mark the arrival of the first whisky from the Cotswolds Distillery to speak with Daniel Szor, founder and CEO, in order to better understand just what makes this new English distillery so interesting. Here's what Dan had to say when we put our questions to him.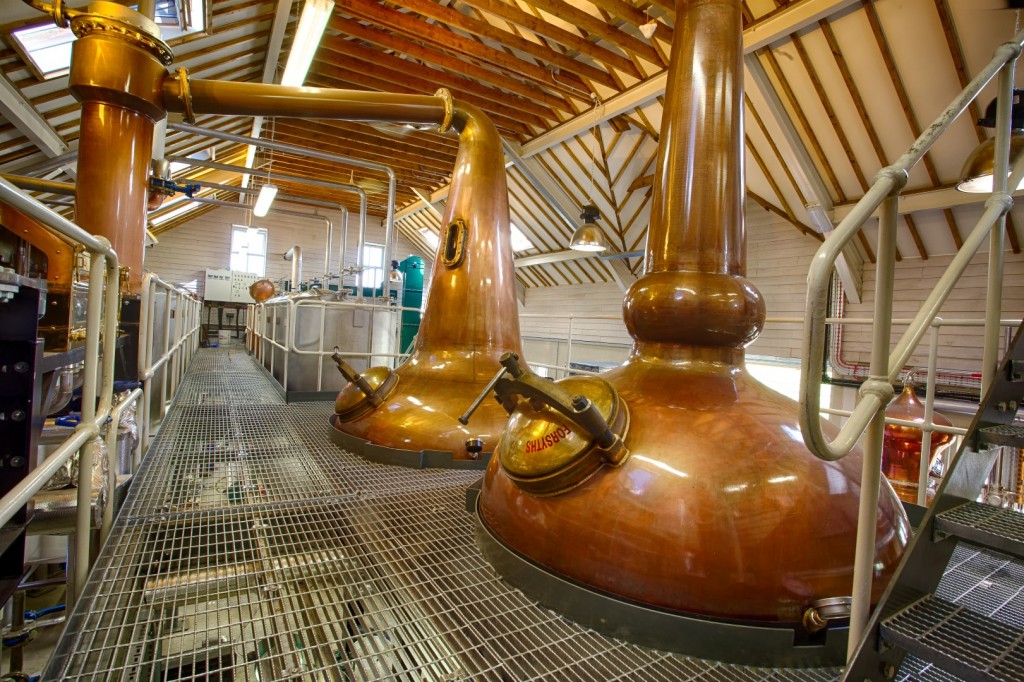 1. It seems like only yesterday that the new distillery was announced, and here you are with your first release. How has the journey been in the first few years and what's been your biggest learning to date?
The journey has been wonderful – far more intense than expected, and much harder work than could have been imagined.  It could not have been accomplished without the extreme dedication of our amazing team.  What I've learned is that in this business you have to "think big" – scale is your friend, and if you're successful you'll doubtless regret that you didn't start sooner, make more, have bigger kit, etc.  It took 18 months for us to find the courage, and a bit of capital, to make the move to 2 shifts per day (which doubles our production) of whisky-making, and now that our whisky is on the market and getting great reviews we wonder how we could ever have not taken this step.
2. Your inaugural release has been out for a few weeks now. How does it feel to have a whisky actually out there being sold? Is it a relief or are you nervous about the wider reception?
It feels great to have our whisky on the market, and we couldn't be happier with the reception it's been getting from reviewers professional and amateur alike.  I would not say that we're nervous for the wider reception, as this whisky is by nature (due to its limited supply, especially in the first few years) intended for a pretty small target audience – primarily either lovers of premium artisanal whiskies, the Cotswolds, or both.  I think this product has so much to offer both of these groups – great quality of production and attention to detail, and authentic provenance, that it can't help but be well-accepted.
3. What's the feedback been like so far on the new whisky?
The feedback has been excellent – everyone who's tried it is amazed at the depth of flavour, the richness and fruitiness.  Also very pleasing is that most who taste it blind without knowing its age give it quite a few more years – 7-10 seems to be the norm – than its actual age of 3 years.
4. It's admirable that all of your barley is local barley. How important is the grain to your whisky and are you experimenting at all with different varieties or methods?
What's important to me about the barley being local is that we're being true to my original vision of making whisky with grain from the Cotswolds, and also that it "feels right" to pay homage to the rich agricultural heritage of our area.  And it's genuinely more fun knowing our growers, and sharing our journey with them.  They make it clear to us how much this matters to them, and we know that we will always get their best crop.  We've experimented with a few different types of barley – last year we bought 20 tonnes of a 100-year old variety called Plumage Archer from a rather well-known (read: royal) Cotswold Neighbour, and next year we hope to look into a mixed mashbill with which to make a "Southern-style" whisky on our new 1,200-litre Holtstein still.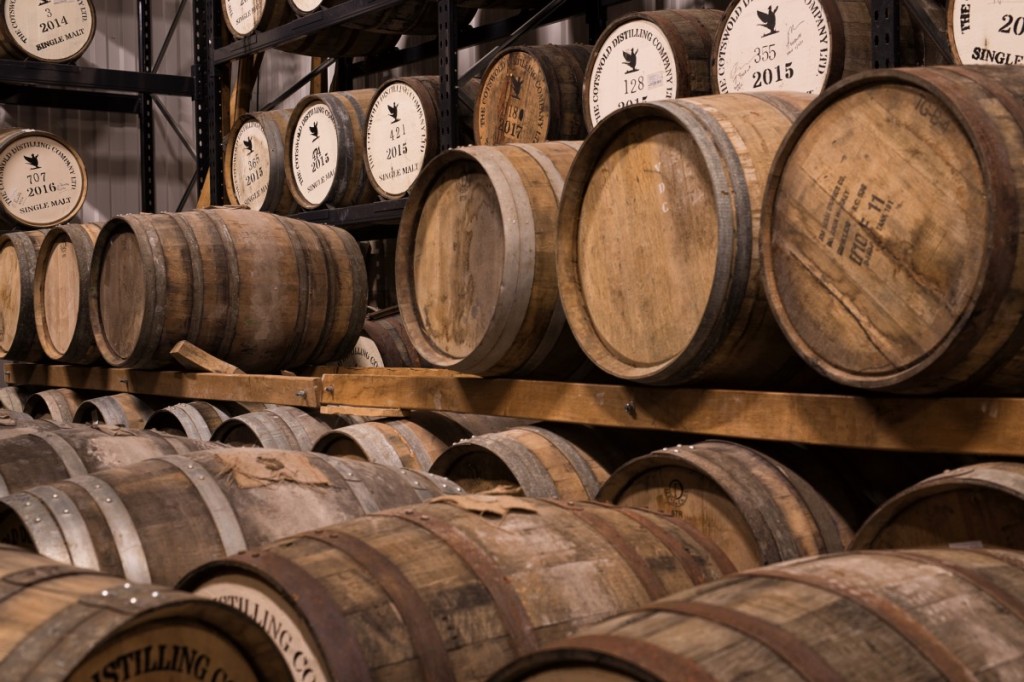 5. Can you share a little more about the distillery's wood policy and what type of casks you'd like to have influenced your whisky in the early years? Will this change over time?
The distinctive taste of our flagship malt comes from two casks – ex-bourbon and ex-red wine, both first-fill.  The wine casks are the real workhorse behind the colour and flavour – they are American oak and have been shaved, toasted and recharred according to a recipe developed by the late great Jim Swan, who helped us determine our flavour profile.  These casks provide for fast extraction of both colour and flavour, while allowing for enhanced fruitiness from the wine in the wood.  We blend in the bourbon cask to add some of the more traditional whisky notes of malt, vanilla and honey.  We blend the two casks in a precise ratio (70% wine and 30% bourbon) and rerack them for an additional 3 months of ageing so that the flavours can be fully integrated.  This accounts for about 80% of our production, and it will continue to define our flavour profile over the years to come.  In order to maintain a consistently high intensity of flavour and extraction, most of our casks will be first-fill – i.e. we will not reuse many barrels.  This is incredibly expensive as a wood policy, but it's absolutely worth it in our eyes.
6. The distillery makes whisky in the style of Scotch, albeit with your own expression of that style. Given you're not bound by the same regulations, are you tempted to experiment in any way?
A few chestnut casks would be fun to fill one of these days, I've heard many good things about them – and of course some Mizunara Oak, if we're ever rich enough to afford some.  We have also used vessels such as Calvados casks, which are apparently not allowed by the SWA as they are not considered "traditional" whatever that means.  But in the end it's not really about whether we make whisky in the Scotch or any other style, it's really about making whisky we believe tastes good –we won't entertain novelty ideas simply for the sake of being novel.
7. How challenging is it for a new distillery to make an impression these days, given there seem to be so many new brands on the market? And what kind of things are you doing to side-step them?
Having spent much of the past 3 years building our brand through our Cotswolds Dry Gin, it actually seems a lot easier spreading word of the whisky, as the whisky market is not as crowded as gin has become in the UK – there are fewer new whiskies coming out every month than gins.  And thanks to our gin and its success, our brand is already pretty well known.  There's certainly a lot of novelty appeal to a new whisky from a non-traditional area, and even more for one with such focus on high quality and transparency.  We hope that we will quickly develop a reputation for our quality and taste, and that rather than becoming known as an "English Whisky" we'll become best known as the maker of a fine Cotswolds Whisky.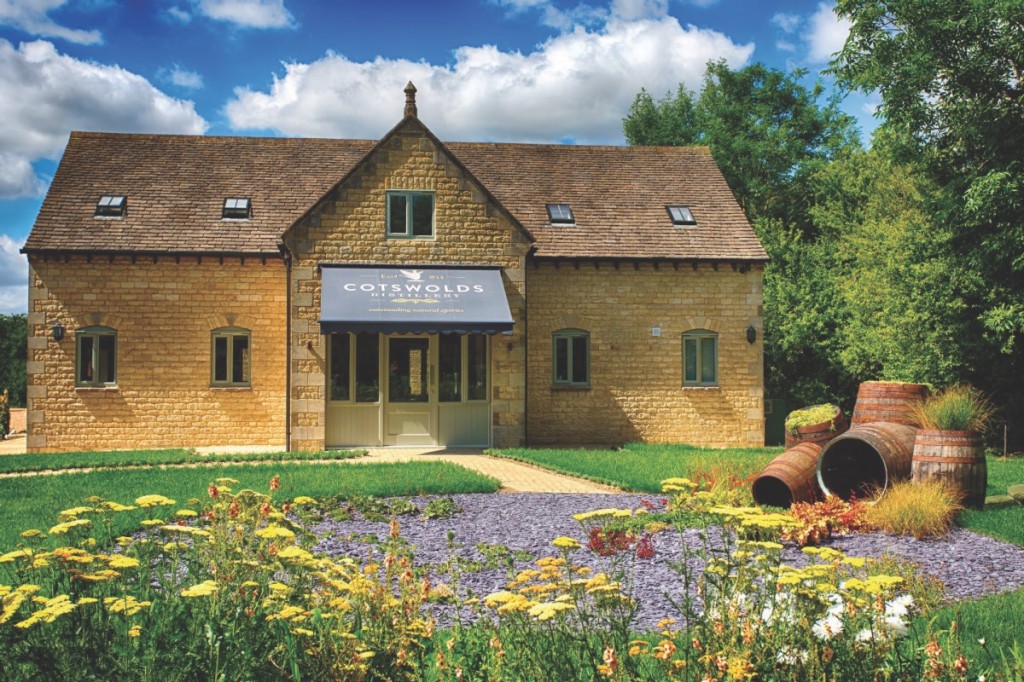 8. Are you able to share more about what the next releases from the Cotswolds Distillery will be like? Will they be much in the same style or will you look to showcase different maturation expressions?
It will take at least a year for us to truly understand the reaction to our whisky across different channels, markets and countries but our hope is that our Cotswolds Single Malt will be an enduring expression which will remain constant, and consistent, over the next several years.  Simply put, if people appreciate the way our whisky tastes we're not going to focus on putting a lot more age into it just to be able to say it's older.  We plan to put out a new small-batch release every fall, starting in 2018 with our port-barrel bottling (this, like all our other releases, will be full-term ageing as opposed to "finishing").  It will probably be followed in 2019 by our "Islay Cask", and then in 2020 by our first 100% sherry-cask (a mixture of Oloroso and Pedro Ximenez, aged in American and Spanish oak) whisky. By 2021 we will have enough older stock in Bourbon and Wine casks to begin incorporating older barrels into our flagship blend, and that's about as far as we dare – or care – to forecast for now (though we have lots of other interesting surprises ageing away in our warehouse).
9. How do find the reaction has been to English whisky as a whole – do people see you as part of the same world as Scotch whisky, or do you feel that attitudes view English whisky as something distinct? Or is it too early to tell?
We are big believers in the exciting and growing "World Whisky" movement, in which innovative and high-quality whiskies are now coming out of non-traditional places such as Taiwan, Tasmania, the Netherlands, Sweden, France, Switzerland and the USA (in terms of single malt).  We feel we have far more in common with this group, with its shared focus on small production, high quality and originality, than we do with other distilleries in England just by the fact that we're in the same country.  Just as Kavalan, one of our favourite whiskies, is known more commonly as "Kavalan" than by the words "Taiwanese Whisky", we're very happy to be known just as "Cotswolds".  We're very proud to be hosting the 2nd annual World Whisky Forum, chaired by Dave Broom, at our distillery next summer!
10. Finally, skip forward another decade, what would you hope to have achieved at the distillery in this time?
We hope, within a decade, to reach "equilibrium" in which we are selling about the same quantity of whisky we make in a year.  By pushing this equilibrium point 10 years out we should be sure to increase the average age of our stock, which will give us more dimensions to play with when blending.  We would hope that our flagship single malt remains the linchpin of our whisky portfolio, with its quality consistently improving from year to year, and that we are able to offer a limited but meaningful number of new and interesting expressions to our fans every year.  We hope to maintain the strong level of loyalty to our brand – both in gin, whisky and in our other releases – which is due to our ethos, our transparency, and our commitment to quality.  And we hope people continue to visit us often at the same rate – 30,000 every year – to see how we do it all.
Mark