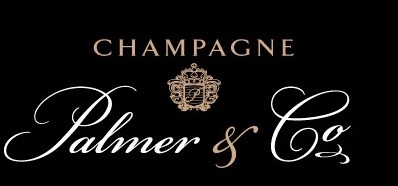 'One of Champagne's greatest cooperatives'– Tom Stevenson
Author of:
The World Encyclopaedia of Champagne and Sparkling Wine, and The Annual Champagne and Sparkling Wine Guide
The production and distribution of quality champagne can be a highly complicated process, particularly when it comes to the relationship between the wine growers and the large champagne houses or most recognised brands. To facilitate such joint ventures cooperatives were formed in the region. Their efforts have helped maintain crucial relationships, therefore streamlining the production and distribution processes. However it is mainly through the release of excellent champagnes under their own brands that such cooperatives have, in recent years, been responsible for significant increases in overall champagne sales and penetration into new markets.
Champagne Palmer & Co. is undoubtedly one of the most promising of these cooperatives. Fascinated by their story and mission; we began bringing their champagne into the UK in late 2012: Formed in 1947 with the coming together of 7 Premier and Grand Crus growers from La Côte des Blancs and the Montagne de Reims. They became known as the 'Societé des Grands Crus de La Champagne'. Early on they began to explore new Champagne terroirs, such as the Sézannais and Les Riceys. It is this unique emphasis on the more individual expression of different plots of land for their components which really distinguishes Champagne Palmer & Co. from the large brands.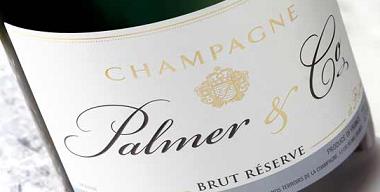 Palmer's quality was begrudgingly recognised by the 'Grand Marques' early on, who made Palmer their first port of call if they were short in a vintage and needed to distribute a finished wine under their own name. However, by virtue of their closer relationship with a smaller number of growers, cooperatives such as Palmer have a greater degree of control over a smaller number of champagne components at every level of production. This allows them to craft wines which are more interesting expressions of terroir, grower philosopy, and vintage characteristics than the blended house styles of the big brands.
Despite Palmer's rapid growth in the last 30 years, this intimacy is still the case, as there are only 200 rigorously selected members of the cooperative today. Coupled with strict adherence to traditional methods in vinification and in the cellar, and extended lees contact, the results are spectacular. The excellence of Palmer and Co's Champagne is now gaining deservedly wide recognition in the industry. Largely responsible for this growing critical acclaim is their multi-award winning 2006 Blanc de Blancs: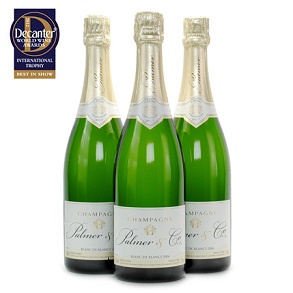 'Lovely toasty aromas flitting and fleeting through beautifully fresh orchard and citrus fruits' – Tom Stevenson
2006 Champagne Palmer & Co. Blanc de Blancs
Decanter World Wine Awards 2012 – Best Vintage Champagne Trophy Winner and Winner of International Trophy for Best Sparkling in Show
£31.90 per 75cl Bottle Duty Paid
£132.06 per case of 6/75cl In Bond
Made from 100% Chardonnay, half from Le Montagne de Reims, including Premier Crus Trépail and Villers Marmery, giving precise and emphatic minerality with a creamy texture. The other half comes from the Côte Sézanne giving the wines a unique intensity of fruit and decent ageing potential.
Aromas of white flowers and honeysuckle, drifting above a palate of subtle citrus and pure white fruits, balanced by ripe autolytic notes of almond and brioche. Good acidity and amazing textural richness. A perfect summer aperitif.