Their first whisky hit the shelves in 2022 and drew immediate attention. Bottled at a considered ABV of 50.3%, lightly peated, and matured in a mix of ex-bourbon and STR, it bore all the hallmarks of a carefully assembled release by people clearly passionate about whisky. To great relief, a glass of White Peak's Wire Works confirmed suspicions: the whisky was nothing short of fantastic.
Since then, White Peak Distillery have continued to produce stunning whisky through various creative small-batch expressions, with multiple releases going on to win some of the most prestigious awards in the industry. With Nickolls & Perks a long-time advocate of the distillery and one of the first major retailers to stock their whisky, our team recently ventured to Derbyshire to visit this once-wire-producing-industrial-unit-turned-distillery to understand more about White Peak's craft.
Derelict to Deliverance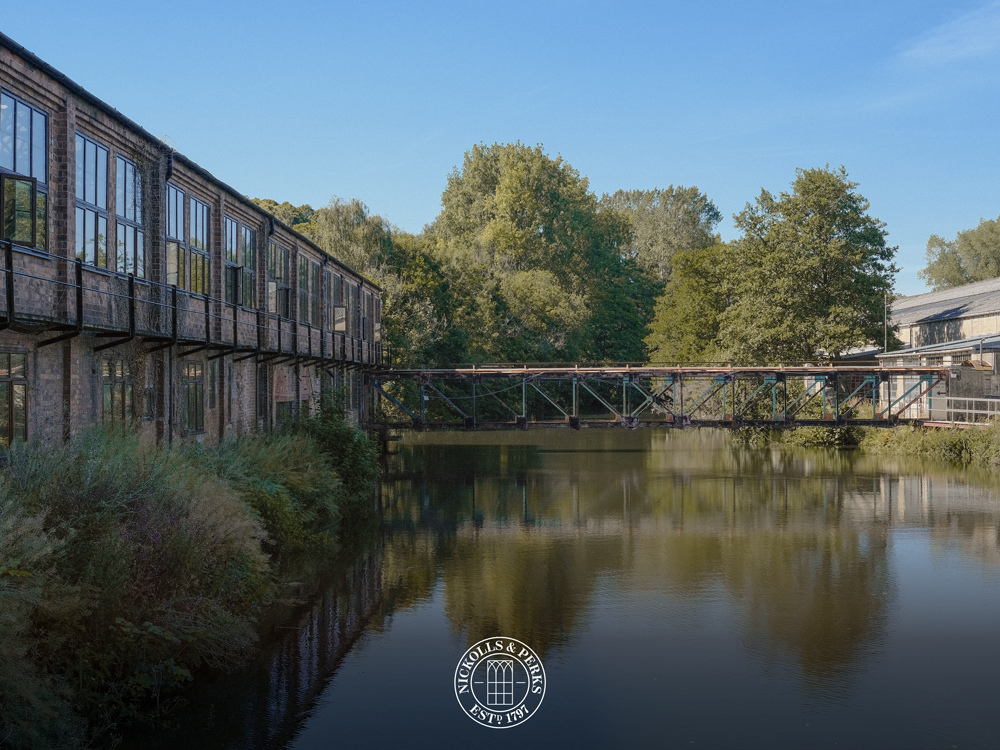 When arriving at the estate in which White Peak resides, you'd be forgiven for thinking you had taken a wrong turn; this isn't your lush green vista of a Scottish Speyside distillery, but a well-worn industrial complex. Bear patience, and as you slowly wind through the grounds and cross the bridge over the river Derwent, you will have time to adjust your lens and appreciate the stark beauty of the surrounding space: the juxtaposed foliage weaving through industrial lines that cross the river; the woodland reclaiming the perimeter fencing; the creeping greenery rising from the water's edge and sprawling across the weathered brickwork of time-worn factories.
We arrived at the understated face of the distillery and stretched off the long drive. From a nearby shed, our host and White Peak Brand Ambassador, Tom Lindsey, emerged. Tom's knowledge and passion are broadly known throughout the local whisky community, being an active member of many whisky societies and once at the helm of a popular whisky bar in Lichfield; we knew we were in safe hands for the day.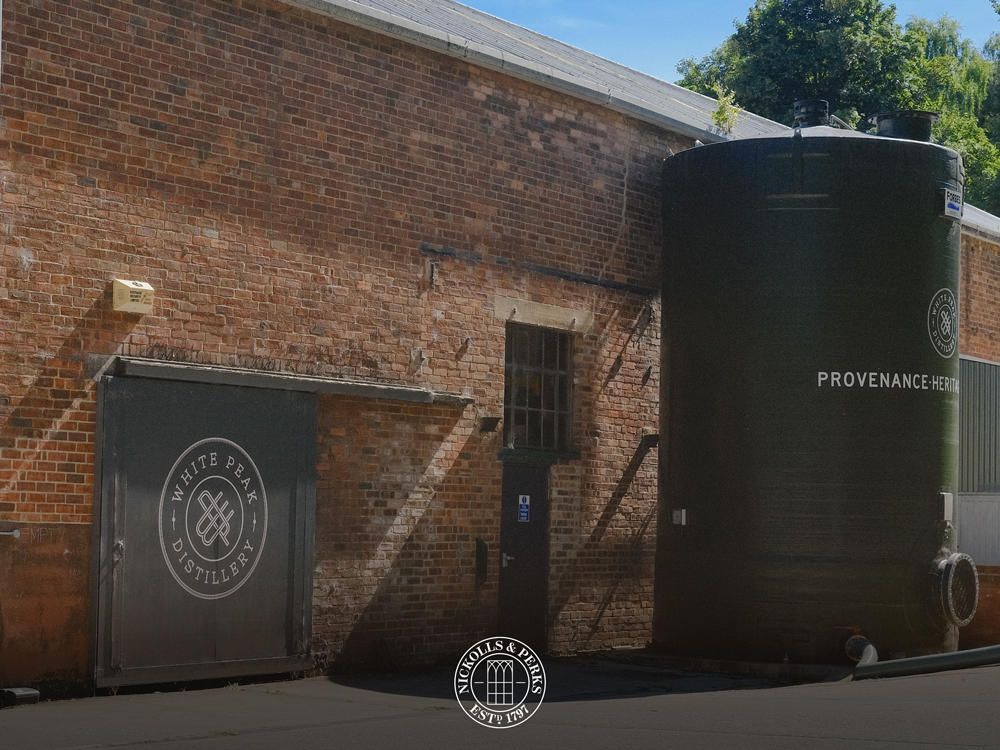 Together, we entered through the rather unsuspecting entrance of the distillery and caught our first glimpse at the rework that had been undertaken to transform the site into a working distillery. The walls of the visitor centre are a sympathetic brickwork, stretching tall to a lofty ceiling where deconstructed casks hang and serve as chandeliers. The surrounding shelving of the giftshop is adorned with the fruits of White Peak's labour, including rums, gins, and, of course, their various whisky expressions. Several demijohns lined alongside the far end of the shop serve as discounted refilling stations for your empty bottles of White Peak products to promote recycling, including their Caduro expression that won the Gold Medal at this year's International Wine and Spirits Competition.
Location at Heart
Over a coffee, we were brought up to speed on how this Derbyshire distillery came to light. Tom explained the vision of Founders Max and Claire and how they sought guidance from influential figures in the industry, such as Balcones President Chip Tate and, of course, a pivotal figure who needs little introduction, the late Dr. Jim Swan. With experience in the marketing world, Max and Claire knew they had found the perfect location when they discovered the once Johnson & Nephew wire works facility, now a UNESCO World Heritage site. Harnessing this sense of place, they began work on a unique bottle design, which eventually culminated into the now iconic Wire Works bottle that won the 2022 Best in Class for Contemporary Design (yes – even the bottle has an award!), a bottle that resembles stretched cables, twisting at the neck in the same fashion as wires were once produced at the site.
Progressing through the shop and the equally beautiful adjoining tasting room, we continued into the main production area and saw the facility in full. The sprawling factory comfortably houses a gin still, pot stills, mash tun, fermenters, bottling hall, mill, fridges to store the liquid yeast from the local Thornbridge brewery (a partnership that stretches into several facets of Wire Works whisky), and still leaves plenty of room for expansion.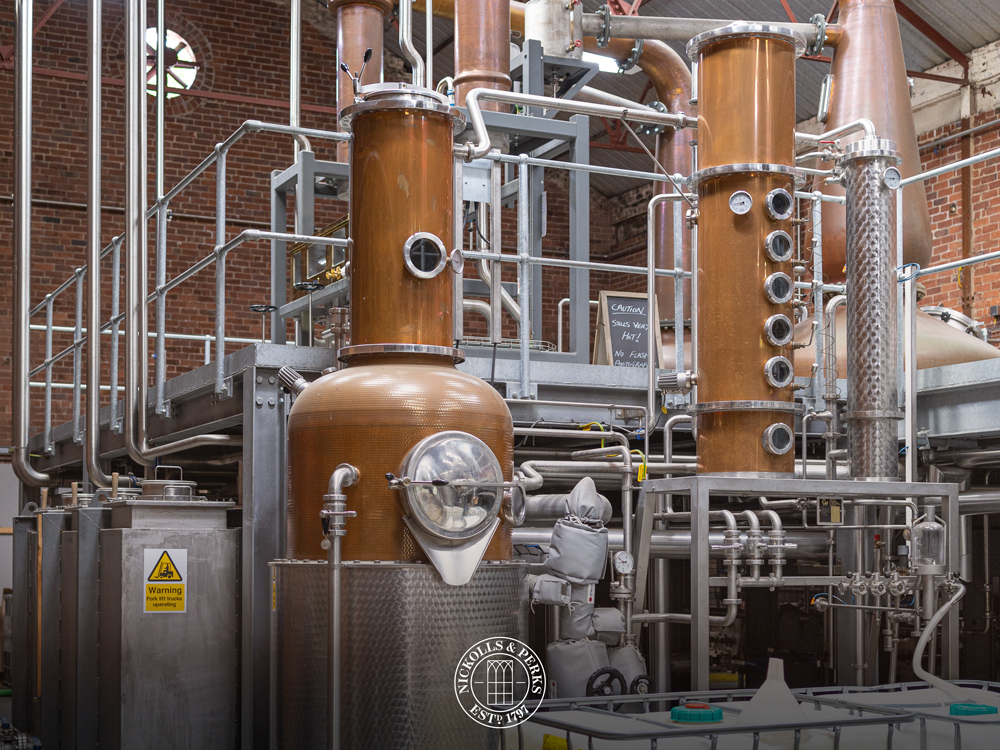 Cut points, dunder pits, research and development, proofing with petit eau; the tantalising lengths to which White Peak explore their craft tick every box for the whisky enthusiast. If you would like to understand this better, we highly recommend a visit to the distillery to take part in one of the several visitor experiences on offer. For now, we were keen to sample the final product and glimpse the future releases that we will someday welcome to the Nickolls & Perks shelves. At this point, Tom uttered the magic words that are the key to any whisky lover's heart: "Shall we go to the warehouse?".
The Wire Works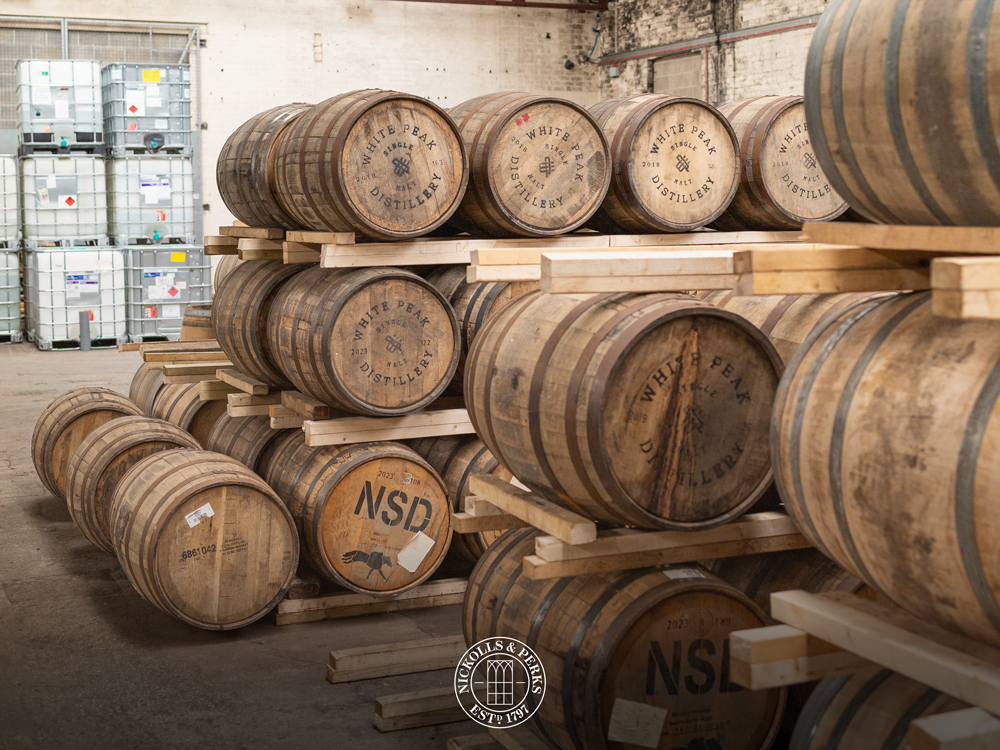 The true provenance of Wire Works whisky was revealed as we entered the dunnage-style warehouse: a long extending unit that was once the site where the cables were stretched in the original wire works facility, making the perfect location to store maturing whisky.
A dominating presence throughout the warehouse, as typical with most distilleries, is ex-bourbon cask maturing stock. However, a unique relationship between White Peak and the American bourbon brand Never Say Die – a bourbon whose final days of maturation are spent at none other than White Peak Distillery – has resulted in arguably the freshest source of bourbon casks for any distillery in the UK; once the barrels are emptied for Never Say Die, they are immediately filled with White Peak distillate.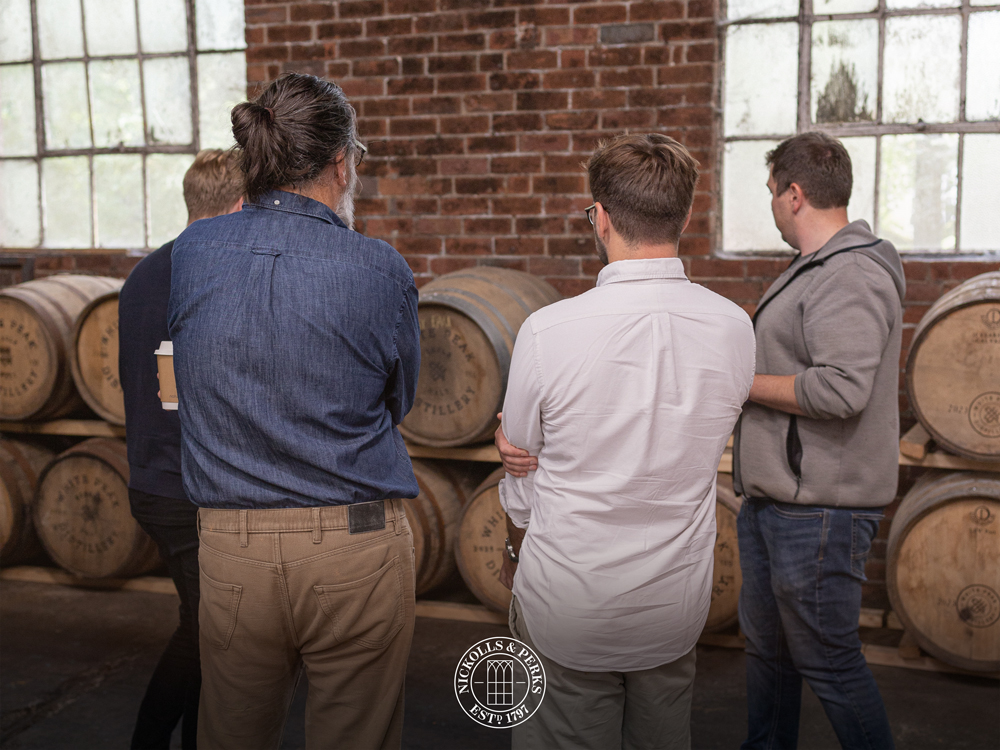 Our attention was drawn to a smaller selection of casks destined for future releases, including Madeira, Amarone, Moscatel and more, and we took little convincing in sampling these rarer offerings. After just a few short months in these rich wine casks, the results were already impactful and promising; another sign that the future of White Peak is set to be as stellar as their impressive opening acts.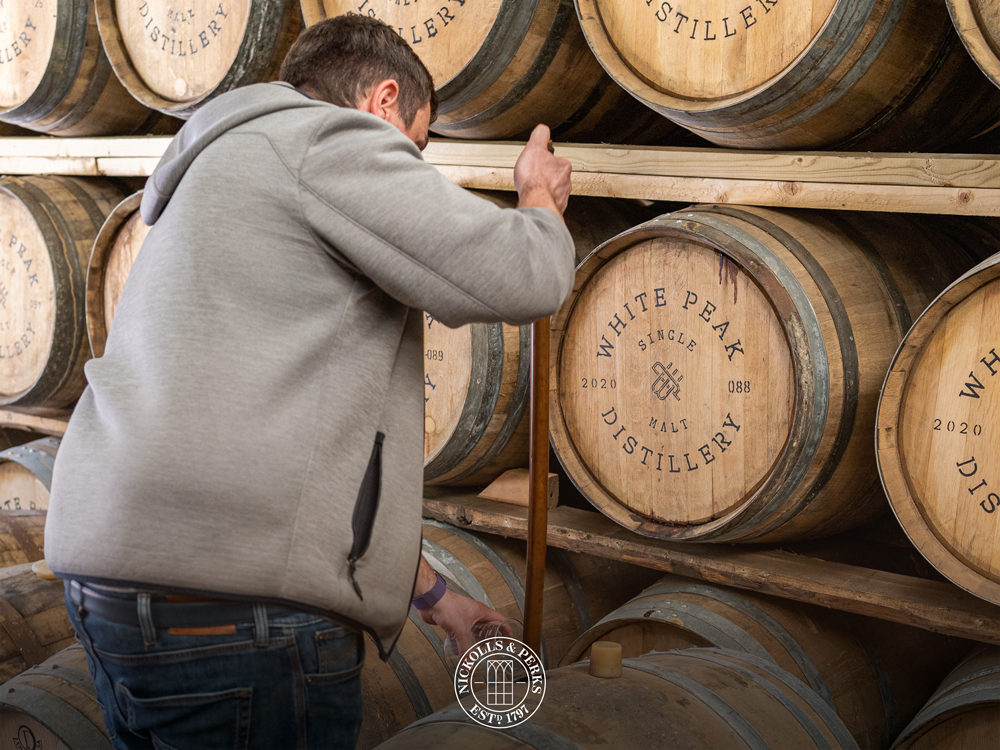 Our time in the warehouse eventually came to a close, but fortunately there was more Wire Works to be tasted. Retreating to the comfort of the tasting room, we explored the completed efforts of the team, including the brand-new edition of the Wire Works Necessary Evil. Beer advocates will recognise Necessary Evil as an impressive imperial stout produced by the Thornbridge brewery. This is no coincidence, as the brewery is a short journey from White Peak and the two enjoy a close relationship. The latest Necessary Evil from Thornbridge saw their superlative stout matured in ex- Pedro Ximénez sherry casks, delivering an immensely impactful beer. What happened to these casks after the beer was released? … Correct, White Peak adopted them for the maturation of their whisky.
This new release, therefore, is a lightly peated ex-stout-come-ex-Pedro-Ximénez cask whisky and is as utterly complex and compelling as it sounds. Indulgent notes of cacao nibs, dates, prunes, coffee and hazelnuts are abundant in this 51.3% ABV dram. With limited quantities available, this excellent expression is sure to only grace shop shelves briefly before finding new homes with White Peak fans and being shared amongst friends (read on for a link to our store).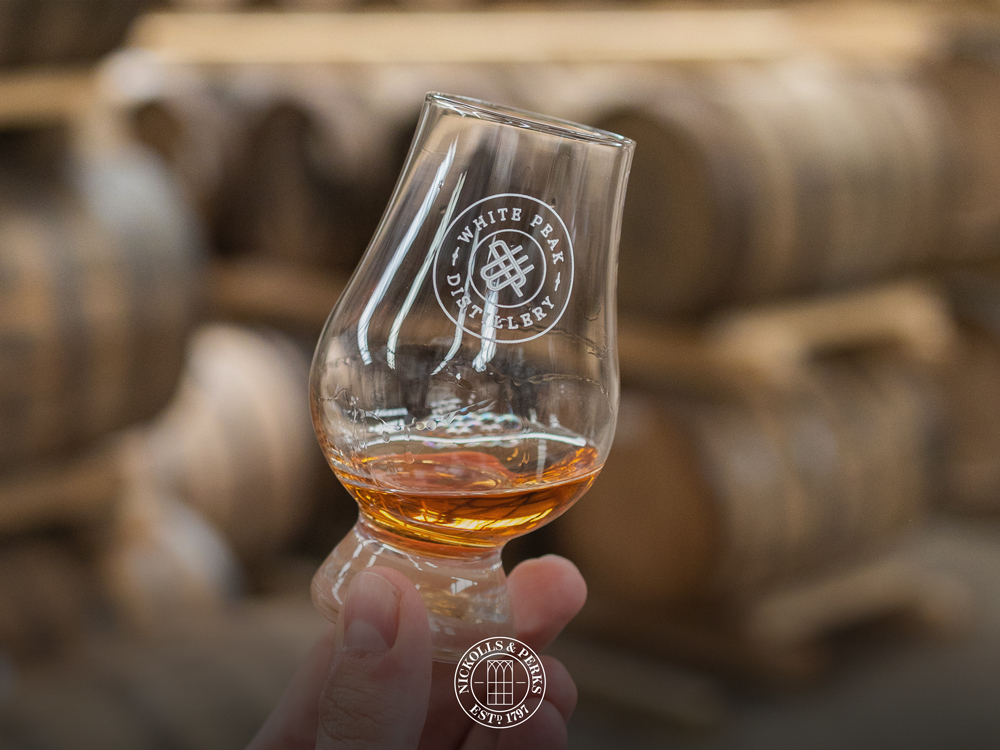 Sufficiently saturated with excellent whisky, our White Peak experience reached its conclusion. As a centuries-old wine & spirits merchant, having another superb distillery so close to Nickolls & Perks is a source of great promise and excitement for our team. White Peak is a testament to what's possible through brownfield regeneration, and a distillery that will certainly be a familiar presence at our store.
Steven – Whisky Specialist
White Peak at Nickolls and Perks
Once only available at the distillery, Wire Works whisky outturns have now grown to a point where they may be welcomed to the shelves of specialist retailers like Nickolls & Perks. We are proud to stock a variety of bottlings of Wire Works. At the time of this article, the following expressions are available
Wire Works Necessary Evil Finish (2023 Release) – White Peak Distillery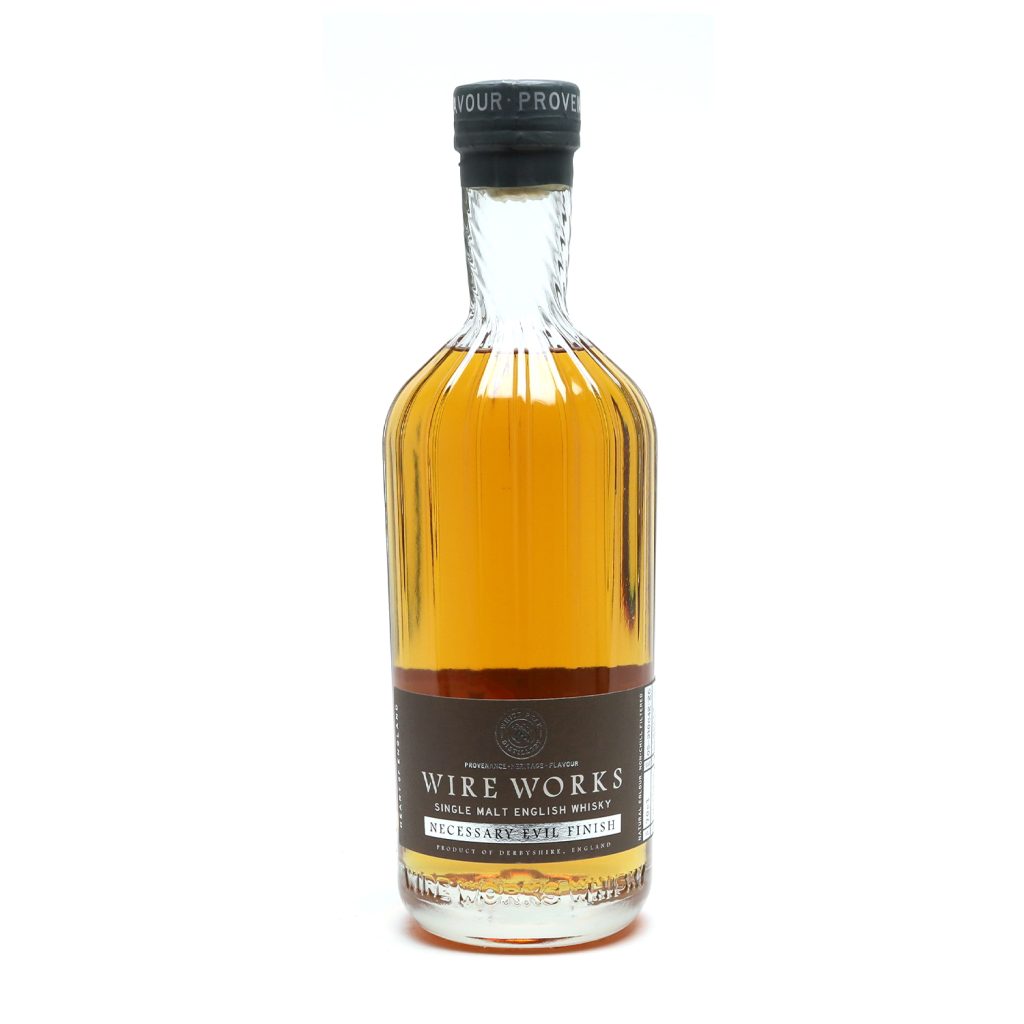 The brand-new expression of Necessary Evil. Lightly peated and matured in imperial stout casks that once held Pedro Ximénez sherry.
ABV – 51.3%
Link To Purchase – Wire Works Necessary Evil Finish (2023 Release) – White Peak Distillery – Nickolls & Perks (nickollsandperks.co.uk)
Wire Works Alter Ego – White Peak Distillery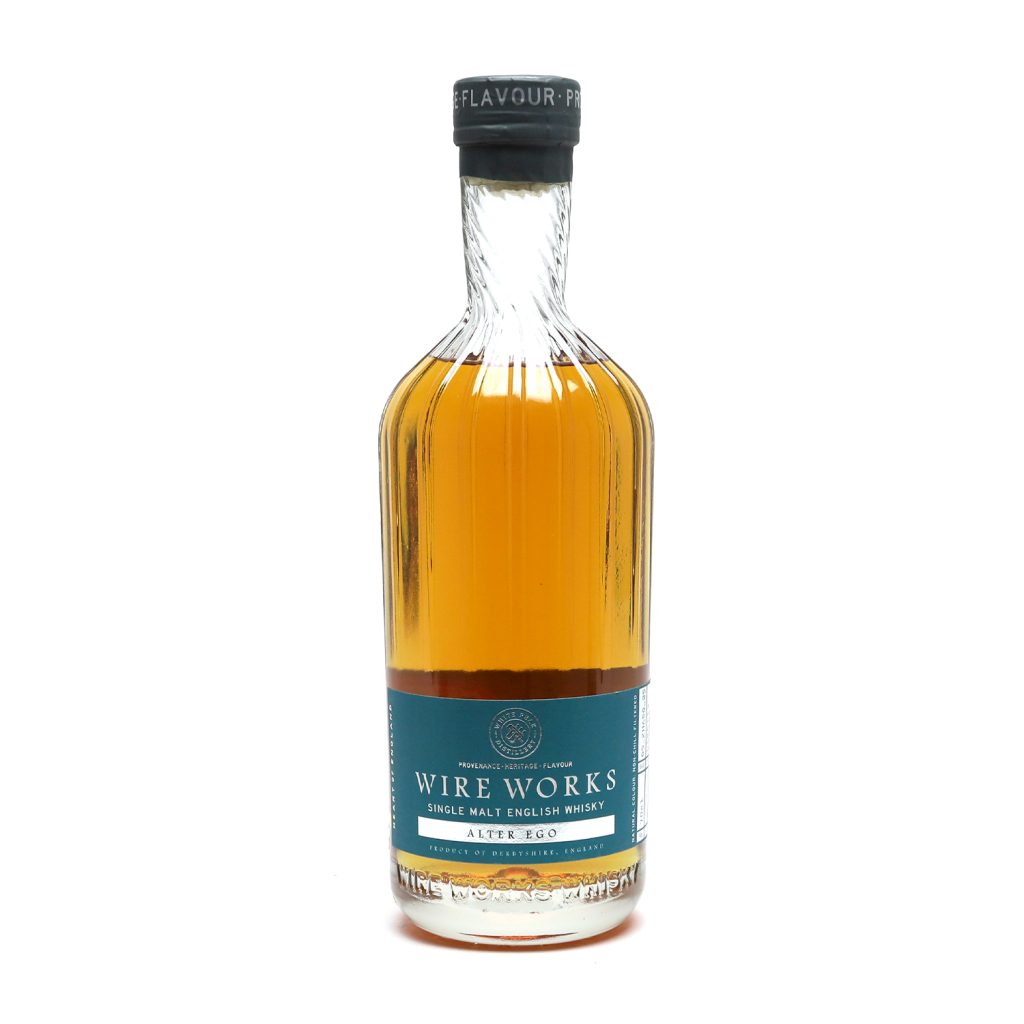 An intriguing experiment of limited distillate from White Peak; a change in cut points taken from the stills to emphasise the fruity characters of the distillery.
ABV – 51.5%
Link To Purchase – Wire Works Alter Ego – White Peak Distillery – Nickolls & Perks (nickollsandperks.co.uk)
Wire Works Caduro – White Peak Distillery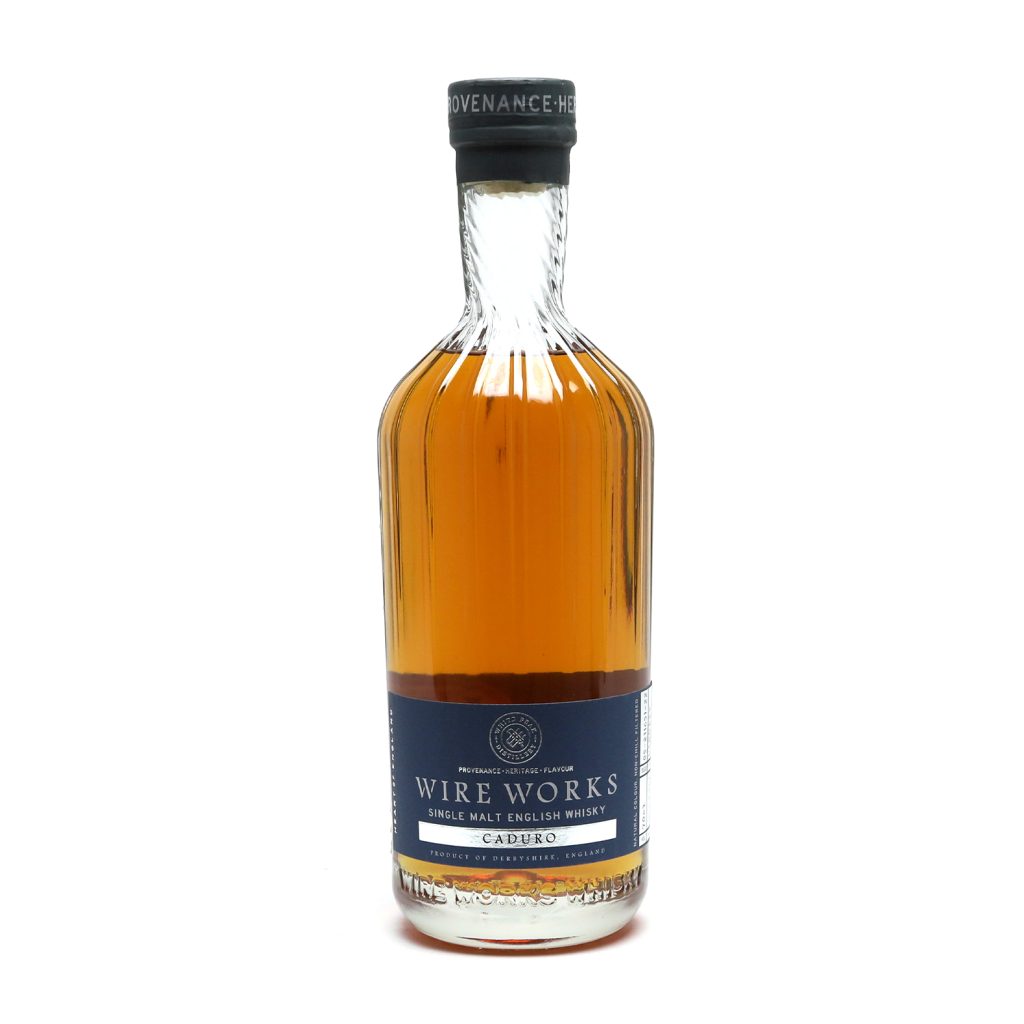 The whisky that is set to be the house style of White Peak Distillery; the consistent core release. Matured in ex-bourbon, STR and French oak casks, and winner of a Gold Medal at the 2023 International Wine & Spirit Competition.
ABV – 46.8%
Link To Purchase – Wire Works Caduro – White Peak Distillery – Nickolls & Perks (nickollsandperks.co.uk)
Wire Works Virgin Oak Finish – White Peak Distillery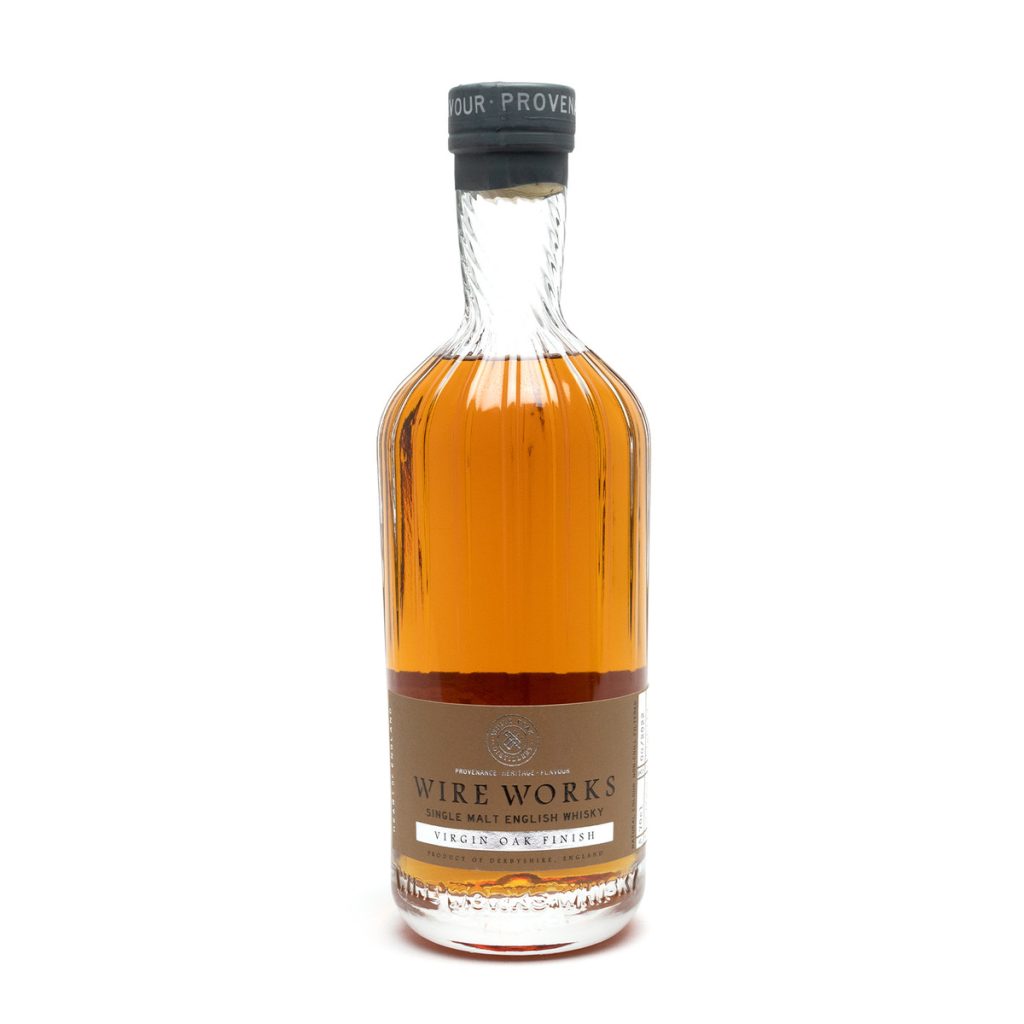 Finished for 8 months in heavily charred virgin oak, giving heaps of toffee and coffee notes to the whisky.
ABV – 51.7%
Link To Purchase – Wire Works Virgin Oak Finish – White Peak Distillery – Nickolls & Perks (nickollsandperks.co.uk)
White Peak Wire Works Single Malt – Small Batch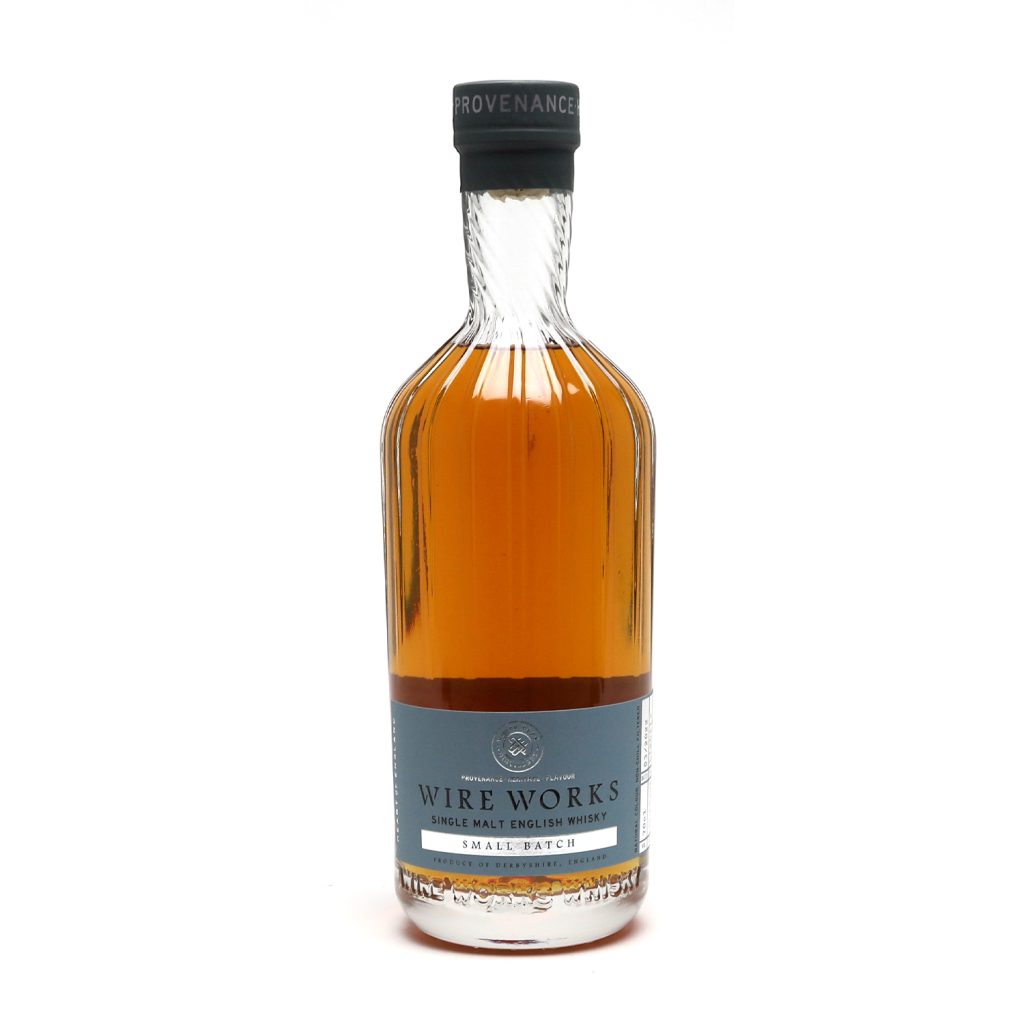 A small batch release matured in American and French oak casks, including STR and ex-bourbon, resulting in notes of sweet popcorn, orchard fruits and banana, followed by candied ginger, cherry pie and chocolate orange.
ABV – 46.2%
Link To Purchase – Wire Works Single Malt Small Batch – White Peak Distillery – Nickolls & Perks (nickollsandperks.co.uk)