Now that the country is covered with snow, we think it's officially time we started talking about Christmas. To those of us perhaps a little too obsessed with booze, Christmas can be a great excuse to get into a huge selection of drinks over the course of a long hazy day with loved ones. But what to drink?
Christmas is one of the few times a year us Brits are likely to feast in the decadent style of the continent: starting with Champagne and nibbles, moving through white wine and starters towards a full Christmas dinner with red and white wines on the table, Port with a cheeseboard, sherry… dear lord, is mum getting out the whiskey?
You get the idea. We understand the anxiety. There are lots of opportunities for wine-pairing ecstasy crammed into one day, and lots of opportunities to get it wrong. That's why we've decided to publish brief guides to Christmas pairing for the most popular styles of wine throughout December. Each article will provide a short round-up of our favourite wines from our list to suit every mood and budget.
Last week we had a short introduction to Port, which for us is just the wine for the cheeseboard a little bit after pudding. We also intend to run through a selection of red and white wines as well as sparkling wines, so watch this space in the coming weeks!
This week we're turning our attention to white wines for the Christmas table. Often unduly neglected, white wines are incredibly diverse, easy to pair with food, and refreshing to the palate. Strongly associated with salads and simply cooked fish, the truth is that there is a white wine out there for almost any meal.
And so to Christmas dinner. What, a white wine to stand up to all the rich, fatty, salty, spicy extravagance of a full Christmas dinner with turkey? In a word: yes. To begin with, we're looking at fuller-bodied wines, with the room to accommodate all the flavours you're going to throw at them and the complexity to say something back to them.
The most obvious answer is oak aged Chardonnay. The grape's affinity with malolactic fermentation gives its characteristic rich, buttery notes, while oak ageing will add subtle, spicy tannins that will get along with any sweet-spiced seasonings (nutmeg, cinnamon), and a touch of oxidation offers complex tertiary flavours and aromas that will make a lot of friends on the Christmas table (pass the bread sauce). Oak aged Chardonnay is an enduringly popular wine style, so this pairing is sure to be a crowd pleaser. We've listed below a few ideas for wines in this style from different places and at different price points.
2016 Limoux Chateau St. Roch Chardonnay 
2012 Hess Select Monterey Chardonnay
2015 Corder Family Vineyards Elgin Chardonnay
2011 Pouilly Fuisse Vielles Vignes Domaine de la Soufrandise
Oak aged Chardonnays are not the only big bad white wines to look at, however. For adventurers under fork and cork, consider the Rhone Valley's oft-forgotten white wines. These wines are often made opulent by the spiced, aromatic sweetness of the trendy Viognier grape.
Consider this option if your Christmas dinner cook has an experimental temperament: cranberries and bacon in with the Brussels sprouts, strong spices and herbs in with stuffing, fruits mixed in with roast vegetables, that sort of thing. Rhone Valley whites are often rich and complicated, with the body to stand up to a fatty meal and the complexity to stand up to a crowded meal, while the spicy aromatics of Viognier will respond particularly well to Dad's Moroccan-inspired stuffing (even if it leaves the family rolling their eyes). Below is a list of some of our favourite Rhone Valley whites for the Christmas table.
2012 Hermitage Blanc Colombier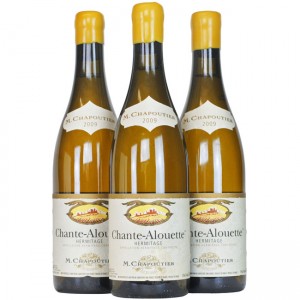 2009 Chante Alouette Chapoutier
Now you know there's more to a roast dinner than red wine, why not pick up an entry-level Chardonnay to test-drive the pairing with a Sunday roast chicken? We promise you won't regret it.
Joe