Announcing our first single cask GlenDronach bottled exclusively for Nickolls & Perks – an 11 year old aged in a Pedro Ximénez sherry puncheon cask and presented at natural cask strength.
We are delighted to share our first single cask bottling of GlenDronach with our customers worldwide. The whisky was distilled at GlenDronach in February 2007 and filled into a single Pedro Ximénez sherry puncheon cask for just over a decade before we decided to have it bottled for us at Nickolls & Perks. At 60.1% ABV, this whisky is surprisingly approachable and we think it's incredibly moreish too!
Onto the whisky…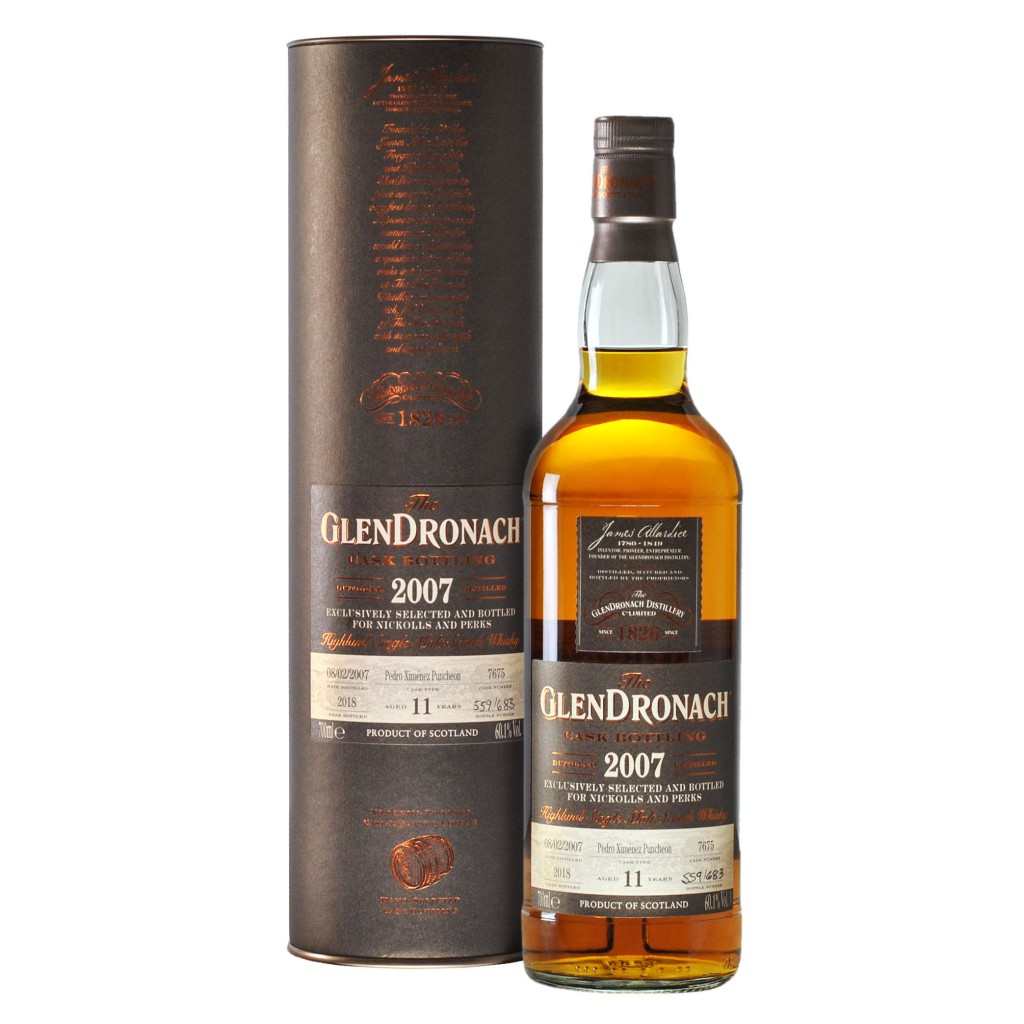 The GlenDronach 11 Year Old 2007 (cask 7675) – Nickolls & Perks Exclusive 60.1%
After tasting through a whole bundle of cask samples in the summer of 2018 from the distillery, it was immediately clear when we tasted this one it was the cask we had to pick. Just 683 bottles were drawn from the cask when it was bottled in 2018.
Tasting Notes by Craig Mills (Nickolls & Perks)
Nose: Opens with rich ginger cake, chocolate bitters, Seville orange marmalade and cinnamon rolls along with stewed black fruits. Plenty of inviting Sherry wood character (think aromatic nut brittle and sherry soaked tiramisu sponge), hints of treacle tart and fragrant tobacco in the mix too.
Palate: A big delivery of chocolate fudge cake, aromatic sweet Sherry wood, toasted hazelnuts, plum pudding and lots of spice mid palate (clove & nutmeg). A burst of orange rind follows and chewy treacle toffee on a warming yet remarkably elegant body for its abv.
Finish: Stem ginger, more chocolate (Snicker bars?) and dark honeycomb. Treacle nut brittle, lasting aromatic spices and finishing firm and dry with late caramelised walnut and banana bread.
Comments: Your only problem is deciding if you prefer this with or without water. Either way we are not just saying this because it has our name on it but this is a classic GlenDronach, well balanced and complex and dangerously moreish!
The GlenDronach 11 Year Old 2007 (cask 7675) – Nickolls & Perks Exclusive is available to buy online here for £75 a bottle.
We hope you get the chance to try this special whisky and enjoy it. We're hoping there is enough bottles to go around!
Nickolls & Perks