Top 10 For Quality
1. Vieux Chateau Certan – Pomerol
 80% Merlot 19% Cabernet Franc 1% Cabernet Sauvignon- 42 hl/ha
Intense inky nose, meaty, this rolls on the tongue, very good mid-palate, round, soft, gentle, spicy, this has the acidity of the 2010. Really fine here, this has the extra dimension of the finest wines in this vintage, as per the estates own media this has 'gentle strength'. A great VCC. Drink 2030-2060
Score: 96-99/100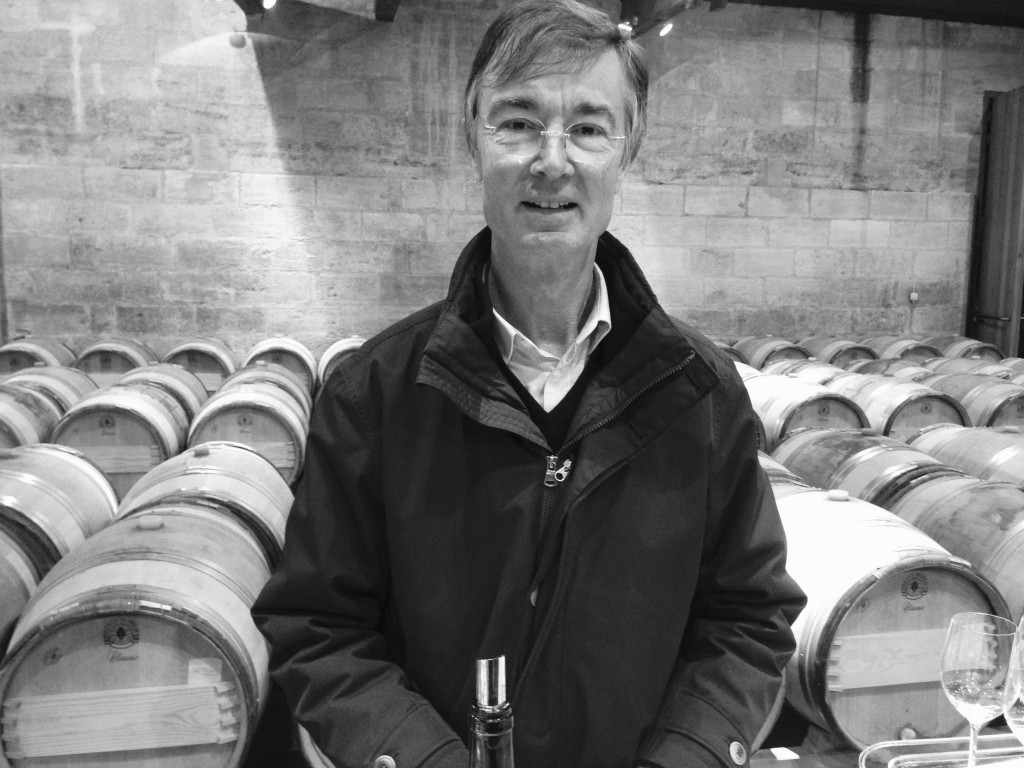 Alexandre Thienpont – VCC
2. Haut Brion –Pessac Leognan
50% Merlot 8% Cabernet Franc 42% Cabernet Sauvignon
Very deep, the nose is refined but very subtle compared to the La Mission, no hint of alcohol even though it is 14.9%! Very fresh on the palate, coating the mouth with dusty tannins as it goes, quite a sizeable block here, but supple too, massive spicy length, goes on and on, Szechuan pepper, zingy, quite brilliant, this will certainly be a candidate for wine of the vintage, and a great Haut Brion. Drink 2030-2060.
Score: 96-99/100
3. La Mission Haut Brion – Pessac Leognan
58% Merlot 7% Cabernet Franc 35% Cabernet Sauvignon
Very deep right to the rim, sweet fruit on the nose, almost toffee chocolate, wonderful aromatics, as expected great texture, full on the palate, creamy, lowish acidity but the balance overall comes through brilliantly on the finish, very long and dusty a triumph here. This comes across a bit more open and extroverted than the Haut Brion, there really is very little between them this year. Drink 2025-2050.
Score: 96-98/100
4. Chateau Margaux – Margaux 
8% Cabernet Sauvignon 8% Merlot 3% Petit Verdot 2 % Cabernet Franc – 100% New Oak
More spice here, deep and mystifying nose, violets, cool fruit, round and seamless, not dense but there is power here, and certainly elegance, epitomizes the vintage with its gentle caress, oak showing a little, lots of chalky tannins, good minerality. The finish is very impressive. Drink 2028-2060.
Score: 96-99/100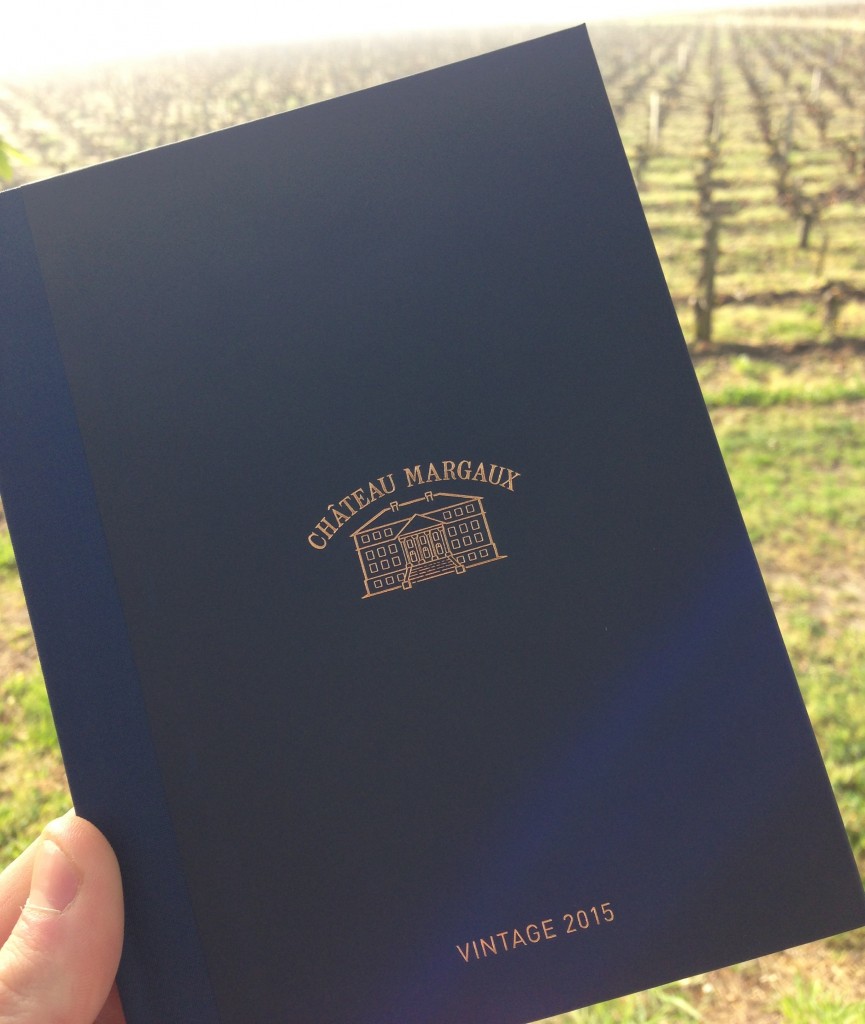 Chateaux Margaux
5. Chateau Palmer – Margaux
50% Cabernet Sauvignon 44% Merlot 6% Petit Verdot
Nicely deep plum, the nose is more closed, but still revealing complexity, with a underlying richness, soft mints, the texture here is very impressive just sits and unfolds, dense, palate, very ripe tannins. This has mesmerizing and harmonious power and elegance, stands out for a Chateau Palmer and for the vintage, leaves the palate very fresh and alert. Drink 2025-50
Score: 96-99/100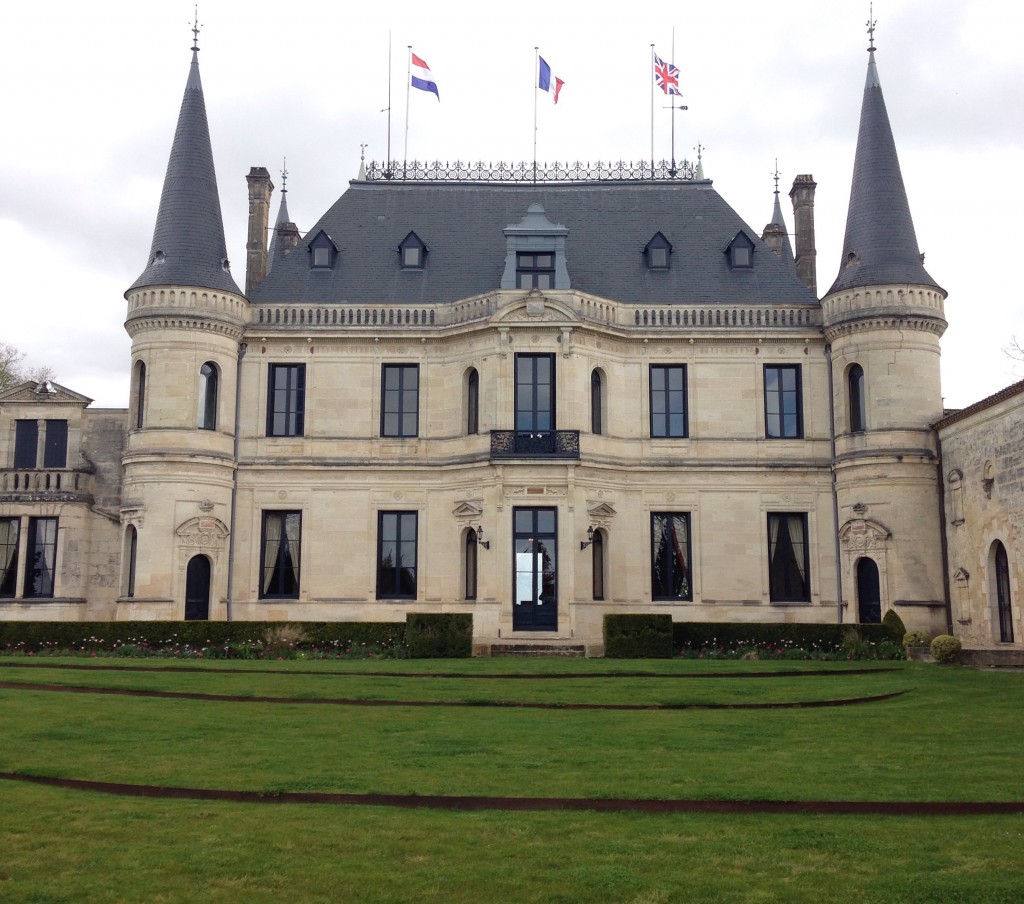 Chateau Palmer
6. Chateau Ausone – Saint Emillion
50% Merlot 50% Cabernet Franc – 85% New Oak – 30 hl/ha
50-year-old vines at Ausone. Composed perfumed nose, pure and mineral, violet, earth, there is the extra density here, very mineral with lots of freshness too. It is constituently impressive, long spiced finish, a calm wine, linear, will evolve beautifully I suspect. Leaves a real buzz on the finish. Femininity and elegance. Drink 2030-2060
Score: 96-99/100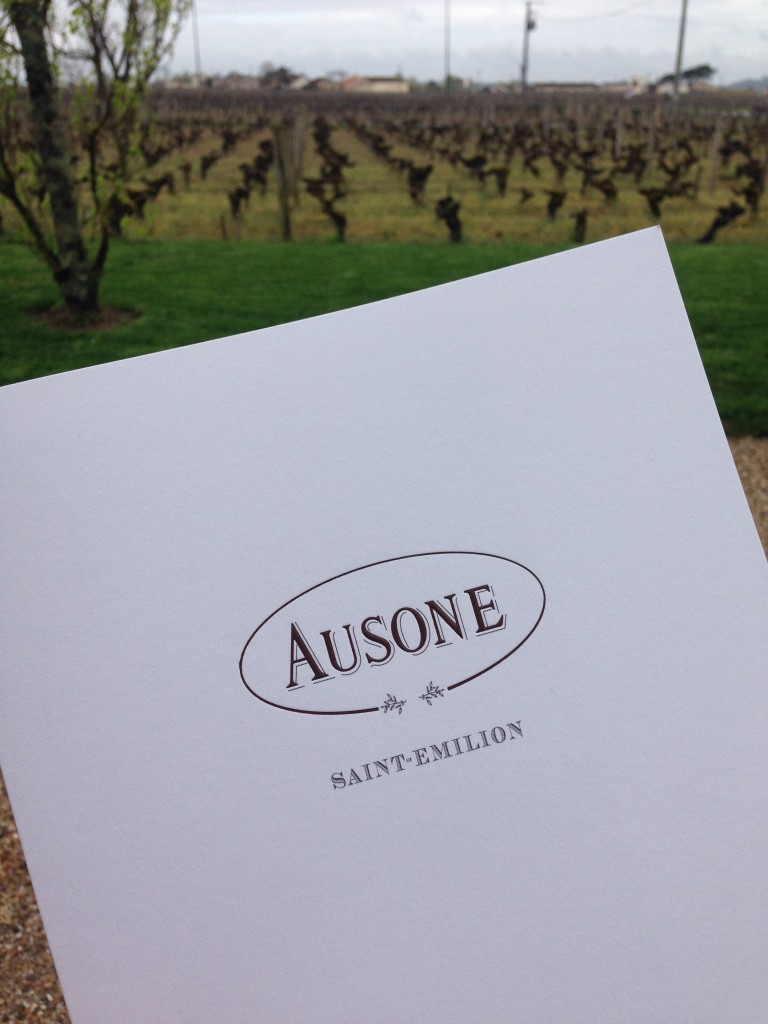 7. Chateau Angelus – Saint Emillion
62% Merlot 38% Cabernet Franc
Very deep colour, lovely intense creamy nose, blueberry, pure and focused, cool fruit, plump big style coating the mouth with plenty of chalky tannins, pain grille, typical of the chateau, it carries well very long. Complex. This is quite extracted compared to some, but the plentiful tannins are very ripe. Reminds me of the brilliant 2005, but it might be even better. Drink 2030-2050
Score: 95-98/100
8. Chateau L'Eglise Clinet – Pomerol
90% Merlot 10% Cabernet Franc – 70% New Oak
Great colour, the nose is bigger than the Petite as you would expect, very pure focused fruit coming through, hints of rose petal and violet, deep dark and exciting, black cherry coming through too, this is a big boy, dense and full, fresh with chalky tannins, textured, serious, savoury and toasty layers unfolding on the finish, for the long haul. Drink 2028-2050.
Score: 95-97/100
9. Chateau Mouton Rothschild – Pauillac
82% Cabernet Sauvignon 16% Merlot 2% Cabernet Franc
Full plum, tight nose with a touch of loganberry, perfumed, vanilla, really elegant and subtly composed, very mouton here strict and layered, soapy perfume on the finish, very ripe dusty tannins, very fine this year, an excellent Mouton. Great length spicy tobacco. Drink 2030-2050.
Score: 95-98/100
10. Chateau Leoville Lascases – Saint Julien
85% Cabernet Sauvignon 6% Merlot 9% Cabernet Franc – 85% New oak
Very deep colour, the nose is inky, meaty great Cabernet perfume, minerality, lovely deep blackcurrant fruit, minty earthy, covering the tannins and alcohol with ease, good ripe tannins. Very deep and concentrated, with a remarkable finesse. A fine result and one of the most elegant wines of the vintage, coupling the easy seduction of this vintage with the power of one of the Medoc's finest terroirs.
Score: 95-98/100
Top 10 Value For Money
1. Chateau Canon – Saint Emillion
72% Merlot 28% Cabernet Franc
Lovely deep colour, perfumed nose, smoky, inky, layered, great mouthfeel, overtly unctuous, very nice balance, very nice all round feeling, lots of dusty tannins, on the finish, very fine with great length. This is lush, but it will live long too, fine balance. This Chateau is back on form, last year was a great success too. Drink 2028-2050.
Score: 95-98/100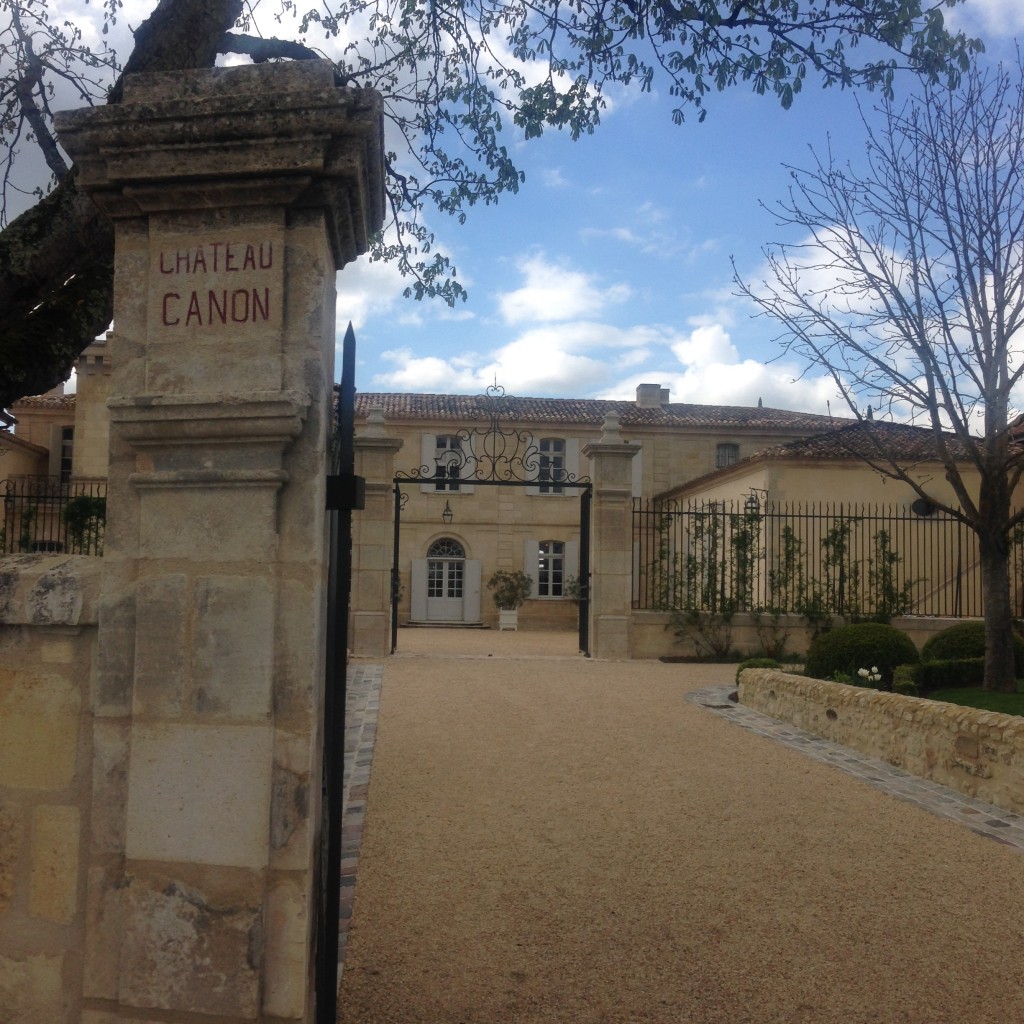 2. Chateau Clos Fourtet – Saint Emillion
Great colour as deep as any, lovely elegant nose, red fruit compote serious and enticing, lovely ample ripe fruit here, textured, oaky, structured but balanced, this is a very fine effort and fine for the vintage. Clos Fourtet has made some exceptional wines and this is potentially as good as any. Drink 2030-2060.
Score: 95-97/100
3. Chateau Clinet – Pomerol
Fresh fruit on the nose, pure, touch of redcurrant, plenty of generosity on the palate, this is singing, the fruit is the dominant, dusty chalky finish too plenty of potential a fine Clinet. Drink 2025-2050.
Score: 95-97/100
4. Domaine de Chevalier – Pessac Leognan
Lovely deep purple colour. Nicely composed, complex nose, high toned notes, real class and elegance, lovely cool fruit, this is fine, the sweetness on the palate is exciting. The best wines just have extra layers of silky fruit in the mid-palate. This is a very fine Chevalier, I am feeling it is the best I have ever tasted en primeur! Drink 2025-2050.
Score: 93-96/100
5. Chateau Rauzan Segla – Margaux
63% Cabernet Sauvignon 33% Merlot 3% Petit Verdot 1% Cabernet Franc
Good deep colour, delicately perfumed nose, nice and complex, silky texture,  really round and refined here, great length this is quite lovely and has an extra but of everything to make it special. A definite buy if the price is reasonable. Drink 2025-2050.
Score: 93-96/100
6. Chateau Carmes Haut Brion – Pessac Leognan
Very deep colour almost black, quite a hit on the nose here, lots of tarry cassis and creamy concentration. The palate is very unctuous, holding well, the fruit is undeniable, fine ripeness, lots of spice on the finish, long and impressive. The acidity is a bit lower but the balance fine. The best Carmes Haut Brion tasted to date. Drink 2024-2040.
Score: 93-96/100
7. Chateau Moulin Saint Georges – Saint Emillion
80% Merlot 20% Cabernet Franc – 85% New Oak – 35 hl/ha
Quite rich on the nose, broad, creamy vanilla, this is up a gear in the range, the fruit holds well against the structure, keeping it all going well into the chocolate tinged finish, this is a fine Moulin Saint Georges, the best for many years and a definite buy. The lower yield could be key here. Drink 2025-2040.
Score: 91-93/100
8. Chateau Gloria – Saint Julien
Very deep colour, intense creamy cassis nose, this is broad and concentrated on the nose, cool and textured fruit here, has good density and ripeness, long and toasty finish this is very good for the chateau and potentially one of the best value wines. Drink 2024-2040.
Score: 92-94/100
9. Chateau Dame de Montrose
55% Cabernet Sauvignon 41% Merlot 4% Petit Verdot
Deep Purple, Lovely fresh and enticing nice, lots of spicy plummy fruit, this is impressive very full, loose knit but unctuous stuff. Plump easy and quite a big wine, and surely excellent for a second wine, could be great value. Drink 2021-2030.
Score: 90-92/100
10. Chateau Labegorce – Margaux
Nice deep plum. Touch higher toned, red fruits, nice plump palate, this is deft on the balance, good finish too a great result. An affordable wine and a good keeper, we enjoyed 2001 and magnums of 2003 in Bordeaux, both showed well. Drink 2020-2032.
Score: 90-92/100
Will Gardener
Managing Director