There's a whole world out there, as the cliché goes, and in it, there is a lot of whisky being made. This isn't even remotely a new fad, either, but it's worth saying that in the last decade the whisky landscape has changed dramatically. There are some brilliant distilleries producing well-made spirits, many of which have been winning top honours at just about every whisky award going.
It's well-known that Japan has been one of these regions, but outside of the well-established regions such as Scotland, America and Japan, where else is of interest? In this series, we'll take a look at some of the more interesting regions, to see what products are being produced that are well worth trying. First up is Sweden.
As part of my reviewing for industry publication Whisky Magazine last year, one of the things that really stood out to me was the consistently good quality of whisky from Sweden. This was a real surprise, as it had never really been much on my radar until then. And the handful of Swedish offerings that crossed my tasting desk were consistently better than most of the Scotch whisky that was also being released: they offered greater flavours, and in my opinion a well-crafted spirit that was better than the average Scotch spirit.
What makes Sweden particularly interesting isn't merely the quality of what they're producing, but the sheer variety of flavours they're able to create and the fact that the producers are doing this in the face of rather tough regulations from the Swedish government. Indeed, spirits are sold through a government-controlled liquor chain – the Systembolaget – which is the only place you can purchase anything above 3.5% ABV, and producers are restricted in marketing anything over 15% ABV.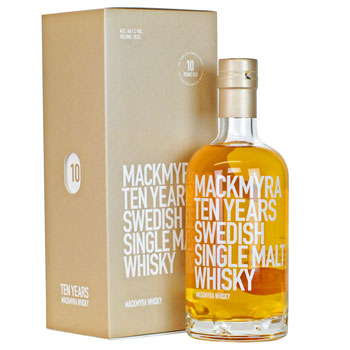 Mackmyra
Perhaps the most well-known of the Swedish whisky brands is Mackmyra, which started making whisky quite a while ago now – in 1999, with the first 30-litre barrels being filled in 2000. It's a bit of a strange brand in that there are now two active distilleries. The first, in Mackmyra village, has two Forsyth's stills and is making whisky very much in the Scotch style. Another distillery went online 6 miles away in 2011, around the time it was floated on the Swedish NASDAQ stock exchange. It's called Gravitation (as it uses gravitational power internally), and was built at the Mackmyra Whisky Village, where a warehouse had once stood.
Where to start with Mackmyra? Well, it produces a number of interesting bottlings, but the Mackmyra Ten Years is as good a place to begin as any.
Spirit of Hven
Another interesting operation is the Spirit of Hven distillery, which was founded in 2008. Another operation that makes both gin and whisky, Spirit of Hven is located on the Öresund Strait, which goes between the countries of Denmark and Sweden. With regards to whisky production, they have an eye for provenance as the distillery uses barley (peated and unpeated) that's grown on the island. Their whiskies are released, so far, as part of the Seven Stars series.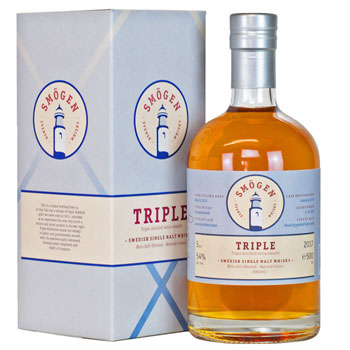 Smogen
Smogen Distillery was established by a man of many talents. Pär Caldenby was a lawyer as well as a whisky writer, scribe of Enjoying Malt Whisky. He managed to get a grant of about a million krona from the Swedish government and built Smögen Distillery, which first started distilling (whisky and gin – Strane London Dry Gin in fact) in 2010. Not a huge amount of the whisky makes it over to our shores, as what does come over here is priced at a premium, but the whisky is wonderful and the distillery has something of a cult following. The first main release was the Smogen Primor 3 Year Old, which is well worth your attention, and there are many interesting bottlings each year. They even do experiments such as triple distillation.
Box Destilleri
Box is a hugely picturesque distillery. The idea came from brothers Mats and Per de Vahl, who converted an old power station, situated by the Angerman River in Adalen, northern Sweden, into a distillery. Mats had bought the site many years ago, in 1991, but the project finally came to life at the end of 2010. Now earning itself a fine reputation around the world, Box again makes whisky very much in the Scotch style and producers 100,000 litres of spirit a year.
- Mark
Featured image © Box Whisky.