– 2016 Bordeaux Vintage –
Institute of Masters of Wine
– 1st December 2021 –
---
Every year, except last year, of course, the Institute of Masters of Wine organises a tasting of a Bordeaux vintage that has been in bottle for a couple of years. This is a great opportunity to assess the early evolution of the vintage and support 'or not'' our findings at the En Primeur tastings which of course are pre-bottling.
This years event was extra exciting as we were about to take a look at the already legendary 2016 vintage.
Expectations as we walked into London's beautifully ornate oak panelled Vintner's Hall, were unsurprisingly high. There can be a slight sense of anxiety in the hope that the vintage lives up to and hopefully exceeds its predicted level and this was particularly so with this benchmark vintage.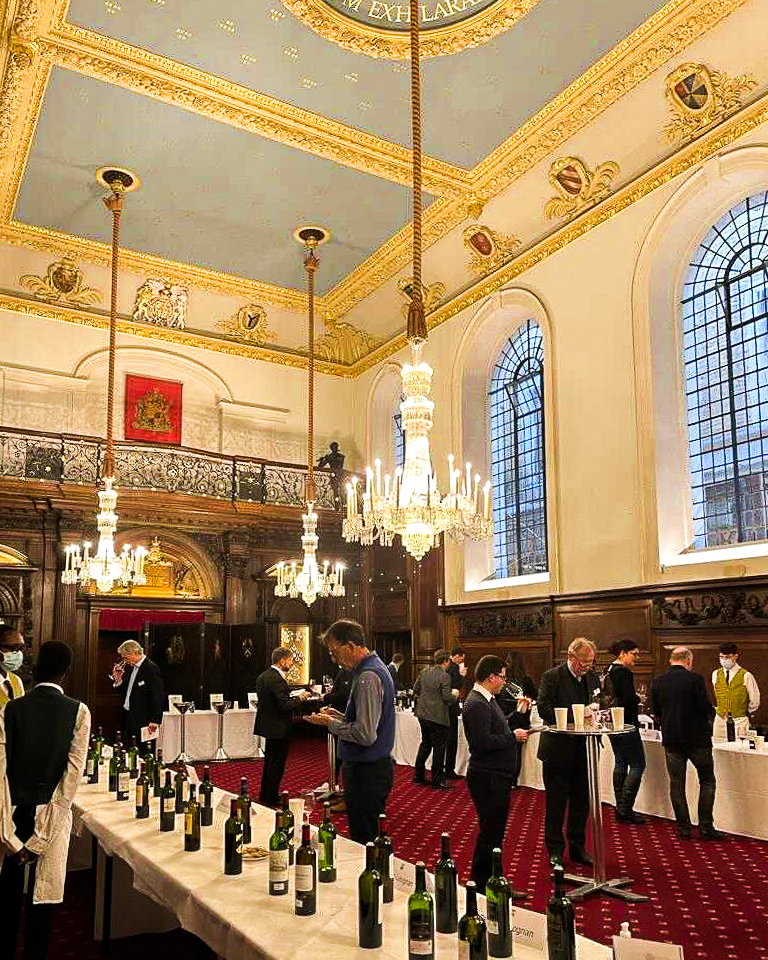 From my perspective I wanted 2016 to stamp its mark as the leader of the pack beyond the claims of other great recent vintages such as 2009 and particularly 2010.
I wasn't disappointed and of course retrospectives of these vintages is now somewhat faded with time, but my gut feeling is that a threat to the lordly 2016's will come from the brilliant trio of 2018/19/20 or beyond.
2016 adroitly represents a shift in the general appreciation of what Bordeaux does best, the balancing act of power, generosity and tension. Though there is no doubt that natural factors and circumstances such as the impending onslaught of global warming and organic viticulture have impacted this shift, the winemakers signature is also significant and 2016 awarded these artists an almost perfect palette to work with. Lower alcohols, higher acidities and a very long growing season allow ample time to assess optimum ripeness.
The sense of anxiety was soon dispelled with the first sniff of the first wine, Chateau Haut Bailly, just fabulous aromatics soaring from the glass. Every commune has great wines and this is another hallmark of 2016, and perhaps its greatest asset, consistency. However its class is perhaps at its most emphatic in the Northern Medoc and on this outing, it was Mouton Rothschild who sealed the deal for me with a magnificent showing which I simply couldn't fault, I had to lay down the 100 pt score and in fact, it was Mouton 1961 which dragged it out of me coincidentally back in January 2016. Unfortunately, I won't be around to taste the 2016 at 55 years old but I would wager it will be every bit as good!
---
THE WINES ;
With a mere 120 minutes to taste nearly 80 wines, as you can imagine it is necessary to be selective, just unfortunate to have missed many which would I am sure have also been excellent.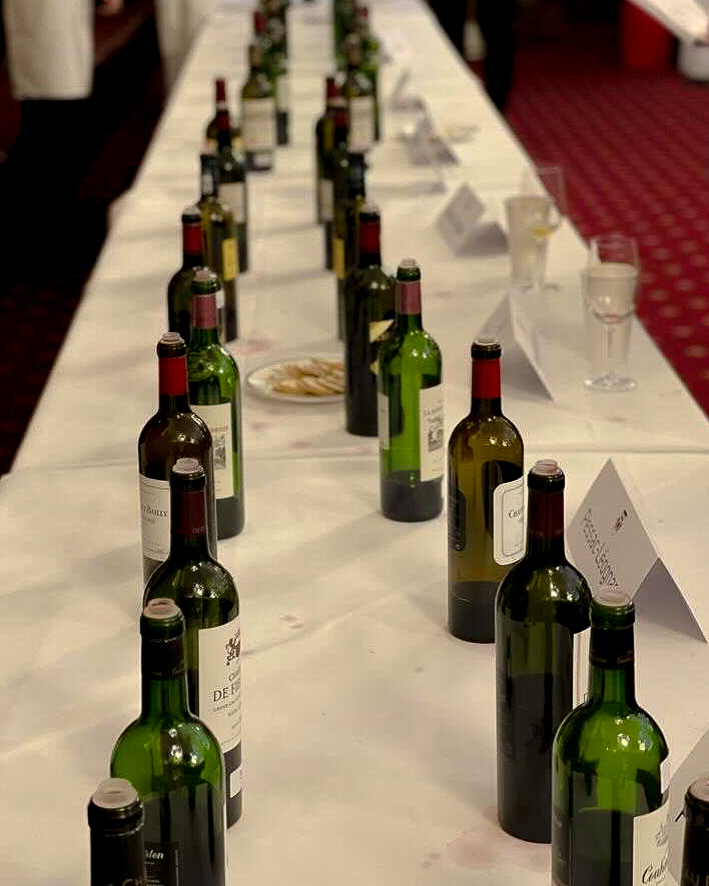 ---
Pessac Leognan
---
Malartic Lagraviere
Good deep plum, a little muddled but ripe with good earthy tones, rhubarb, white pepper, a touch darker, this is structured for sure, tannins are ripe, good depth and grip. 
Score – 93/100 
Drink – 2025-2045+
Domaine De Chevalier Rouge
This is deep, flourishing ripe fruit, wild red strawberries, earthy and mineral, the texture is full and cool, nice deft balancing touch, plummy, really lovely depth, jam rolly polly, very long.
Score – 94/100
Drink – 2026-2046+
Haut Bailly
Beautiful nose very precise and fine, elegant with cedar lining, nicely ripe but judged, calm, very filigree tannins, plenty of freshness, long and harmonious, starting to show well. 
Score – 95/100 
Drink – 2026-2046+
Smith Haut Lafitte
This is very deep in colour, the nose shows mocha, earth, metallic, plummy underneath, complex, darker styling, the palate is very silky here, more California, very fine tannins, riper, generous, long and fine. 
Score – 95/100 
Drink – 2024-2045+
La Mission Haut Brion
The colour is not as deep as some, full plum, this has a hint of oak underpinning the intense perfume, great concentration, inky, the palate is cool and tight with great tension. Very mineral of the back. Long and fine.
Score – 96/100
Drink – 2030-50+
Haut Brion
Full plum, this is similar appearance-wise to the La Mission Haut Brion, very fine nose so complex, great oak edge, slightly purer and less exotic than the La Mission and certainly the finest of the commune aromatically, understated with micro detailing. The palate is seamless and unforced, with ample silk and underlying tension, very together and streamlined, bags of minerality and very long, great wine. 
Score – 98/100 
Drink – 2030-60+
---
Margaux
---
Giscours
Good full colour, the nose is a touch undelineated but very Margaux with aeration, black cherry and cream, the palate is nicely ample with plenty of coolness, lifted and energetic. A really excellent Giscours and a relative bargain at Long and minty. 
Score – 94/100 
Drink – 2025-2045+
Brane Cantenac
Very deep, this is more savoury as usual at this estate, leathery, meaty, Pauillac-like, intense, black fruit, very dense palate, great richness, as always more stuffing than most and it works very well. 
Score – 95/100 
Drink 2028-2048+
Rauzan Segla
Good full plum colour, good fruit-forward nose, concentrated, a touch of damson, cigar box, the palate is lovely and controlled with excellent silk, lovely fresh balance, good austerity but ample generosity makes for great future. 
Score – 96/100 
Drink – 2025-2050+
Margaux
Medium-full plum, holding back on the nose, a touch of new oak, there is an essence of purity with kirsch, super refined and elegant, Burgundian, mineral, the palate is equally polished and refined, No edges, super freshness, ample but great tension, this is awesome, very long dusty grip. Feminine and lithe, graceful. A brilliant Margaux. 
Score – 99/100 
Drink – 2030-60+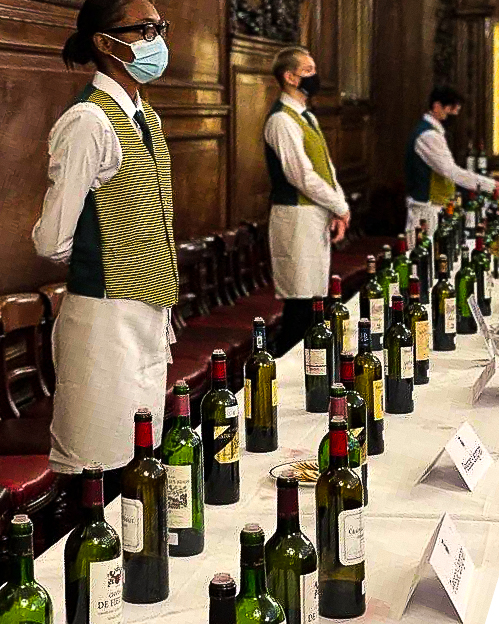 ---
Saint Estephe
---
Lafon Rochet
Good deep plum colour. Open fruit-forward aromatics with plenty of dark berry fruit and a savoury edge, nice freeness on the palate, very saline, good grip into the medium-plus length finish. A mini Montrose!
Score – 93/100
Drink – 2025-2045+
Calon Segur
This is deep in colour, the palate is open with lots of black fruit and savoury, cardboard, eucalyptus, cream, Crème Anglaise, the palate is beautifully concentrated, a big burly and impressively proportioned Calon Segur but not too muscular. Long and dense. Really impressive.
Score – 96/100 
Drink – 2028-2050+
Cos D'Estournel
Super complex nose, with aromas of bbq smoke, grilled meats and balsamic coming to the fore. After a little longer in the glass vibrant blackberry, black cherry, blueberry and rhubarb come through closely followed by a floral note; lilac and violets and then mocha. The palate is also vibrant, with cool yet ripe black and blue fruits leading the way. This is calm and composed, sophisticated even, with tremendous precision, tension and harmony. The tannins are super silky and very well integrated and the finish extremely long. Superb.
Score – 98/100
Drink – 2030-2065+
Montrose
Super deep colour. This is very high tuned on the nose with precise red and blackberry notes, black tea, absorbing richness but so well framed. The palate is lovely and fresh along with the ample fruit styling, a big burly modern wine with superb balance and proportion, which is almost a dichotomy. Will be fascinating to see this develop with bottle age. A great Montrose. 
Score – 98/100 
Drink – 2030-2060+
---
Saint Julien
---
Leoville Barton
Very deep colour, earthy woodsy nose, pencil shavings, graphite, vanilla cream, the palate is super fresh with a boatload of drawing tannins, this is a long haul wine which is not unusual at LB, but super promising. 
Score – 96/100 
Drink – 2032-2060+
Leoville Lascases
Very deep plum, good inky nose touch of new oak Vanillin, mineral earthy meaty, creamy, perfumed, this is beautifully framed on the palate just profound precision and balance here, really lovely long finish this is a great evolution too not at all forced here. There is complexity and delicious fruit flavouring with that unopposed Saint Julien pedigree. First growth level. 
Score – 98/100 
Drink – 2028-2060+
---
Pauillac
---
Grand Puy Lacoste
Good deep colour, cigar box here, lovely undergrowth and cassis laden nose, the palate is packed with red fruit and silky tannins, this is lighter than the big three but a charming evolution so far and an undisputed bargain of the commune this year. 
Score – 96/100 
Drink – 2027-2050+
Lynch Bages
Super dark colour, a touch monolithic and immutable as always, dried leaf, watermelon, crushed rocks, marine intensity, the palate is beautifully austere, with freshness alongside the dense black-fruited density. The early evolution here is impressive, in fact, this is Knock-out. Lots of ageing potential, an uncompromising Lynch Bages of the highest level. 
Score – 97/100 
Drink – 2030-2060+
Pichon Baron
Another Super deep Pauillac, a touch more open than the Comtesse on the nose. Really beautifully concentrated so Pauillac, beefy and savoury with sharp fruit lining, very complex aromatically. The palate is salty and concentrated, so cassis, so Cabernet. The concentration almost is almost a fruit bomb here, but there is an annexed freshness and solidity which draws it back into the long dusty finish. Pretty amazing stuff. 
Score – 97/100 
Drink – 2030-2060+
Pichon Lalande
Super deep colour, beautifully calm nose, tarry, Latour like profile quite narrow and monolithic with graphite and cassis and Asian spice. The palate has great freshness, super cassis here too similar to the Baron, great herbaceous complexly, the leathery length is profound. A great evolution so far. 
Score – 98/100 
Drink – 2030-2060+
Mouton Rothschild
This is very deep in colour, impressive deep-seated nose with cedar tinged black fruit, herbaceous, super precise Cabernet, smoky, lavender, sandalwood, Joss stick, this is the most layered nose and the one which changes most with aeration, the palate is so cool and fresh with great intense richness, menthol, and beautiful balance. So much filed through onto the finish. The poise and unpretentiousness here are profound I can't fault this wine. Just spell-binding. Wow! 
Score – 100/100
Drink – 2030-2055+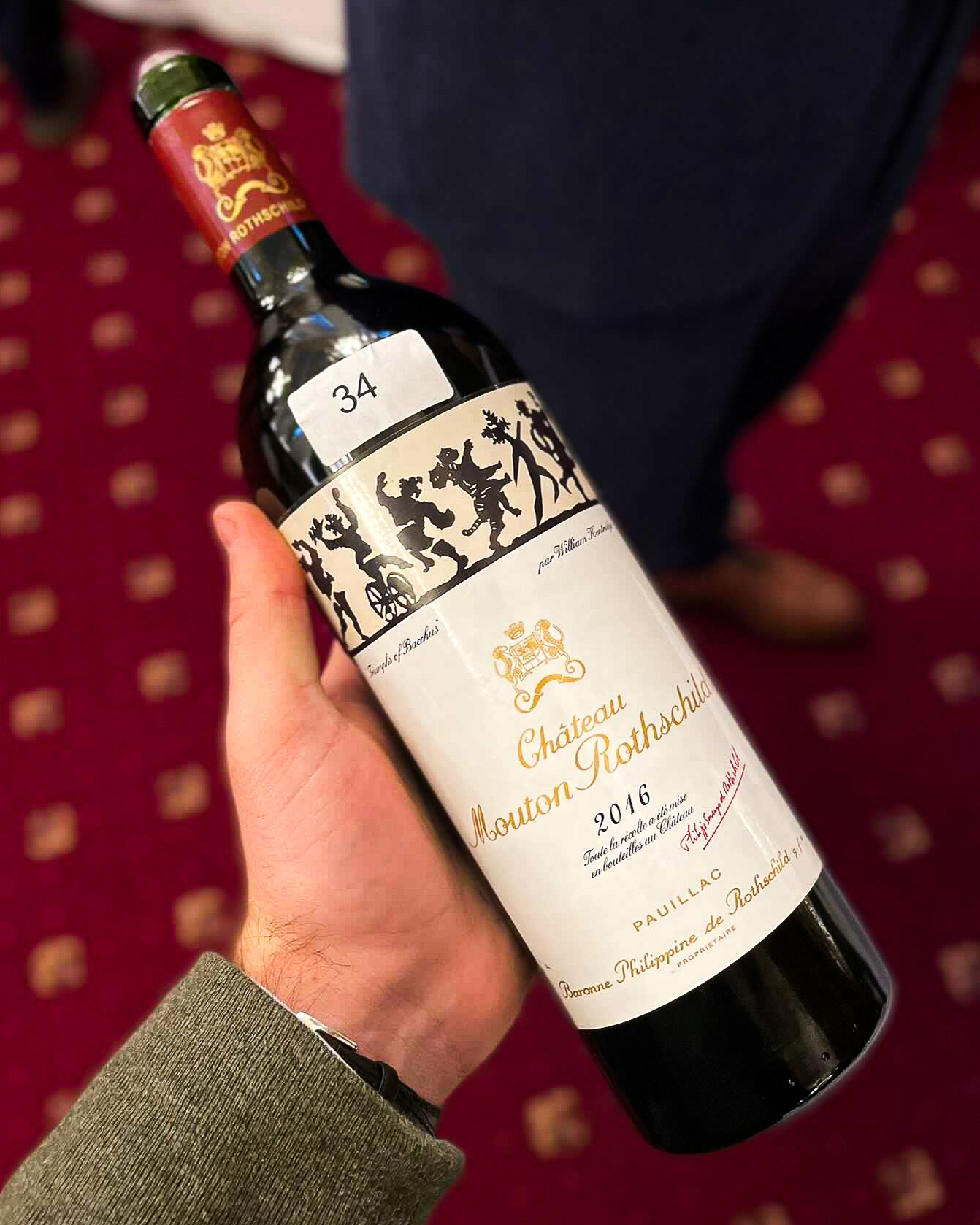 ---
Saint Emilion
---
Belair Monange
Full plum, this has a touch of Brie on the nose with a lovely red fruit backdrop. On the palate the fruit here is fresh lined and lifted, fruit salad, charming, so pretty and plump, more forward than some and just delicious. Mocha on the finish. 
Score – 96/100 
Drink – 2025-2045+
Canon
This is not as deep as some of the other Saint Emilion. The nose is very impressive, quite understand, salty and mineral, like strawberry gel and bath salts. Nicely creamy on the palate, great freshness here showing so much poise and balance, not at all flashy, streamlined, with red fruit nuance, really fine, and very long. 
Score – 96/ 100 
Drink – 2030-55+
Figeac 
Impressive depth of colour here, very full plum, there is a slightly vegetal note like raw potato, backed up with cerise, regal and charming, minty, cedar, the palate is very silky as expected there is an extra dark structured styling here, poised, inky this is a fabulous wine so much grip and extraordinary length. Undoubtedly first-growth quality in 2016. 
Score – 98/100 
Drink – 2030-2060+
Troplong Mondot
A Very deep colour here, the definite concentration here to the inky dark fruit, rich and flamboyant on the palate, with a saline frame. Lots of richness, compact, dense but fruit-forward, a happy wine, nice touch of spice on the finish, long and satisfying.
Score – 94/100
Drink – 2027-2047+
Angelus
Equally deep to the Figeac, this is a touch more flamboyant with open, dark fruit aromatics and coffee bean, meaty, very mineral and complex aromatics, the palate is dense, and powerful but so polished, a touch of spice here on the finish, good energy but it doesn't seem as precise as Figeac today, time will tell. 
Score – 96/100 
Drink – 2030-2055+
Cheval Blanc
Full plum not as deep as Angelus, this is very dainty like fine patisserie, beautiful new oak tinged red kirsch fruit, a touch of Asian spice, the palate is very silky, refined with a solid structure, this is well underpinned, will need lots of ageing, very mineral and lacy, long and saline. 
Score – 97/100 
Drink – 2032-2060+
---
Pomerol
---
Hosanna
Medium-full plum, the nose is minty cool with an underlying blank fruit richness. The palate is super polished, lovely and pure berry fruit expression, very refined with a touch of exotic, and excellent balance. A really delicious Hosanna with a charming profile. 
Score – 95/100 
Drink – 2026-2045+
Clinet
Good deep colour here, comparatively exotic, ripe slightly pruney, almost mature notes, but there is a complexity beneath, it's all here in spades, the palate is creamy and cool trimmed, good grip, concentrated, an impressive effort, touch of cardboard. Touch of austerity too. A rollercoaster. 
Score – 94/100 
Drink – 2028-50
La Conseillante
Full plum colour, there is a salty intensity here, touch inky, calm, great aromatics here very pure berry fruit, definitely understated and restrained. The palate is super delicate, pinched and tensile, tight-knit. This is really impressive. Very long with great finesse. This is what I love about 2016, control, freshness, with just enough leg to keep to hooked.
Score – 98/100 
Drink – 2028-2058+
La Fleur Petrus
Medium-full plum colour, dusty rim, the nose is quite dense and savoury, very powerful, the palate is calm and silky with good minerality and ample proportions. Touch of austerity on the finish. Always well-judged, 2016 is very fine for the estate. Good stuff. 
Score – 95/100 
Drink – 2026-2050+
Trotanoy
Full plum colour, this is quite calm on the nose, very delicate, the palate is juicy and very fresh and precise, super tensile, mineral, great balance, seductive and very fine. 
Score – 97/100
Drink – 2028-255+
D'Yquem
Quite pale still, lovely lemon and honey notes, lemon peel, lovely baking here like a beautiful apricot flan, a touch of lime, lemon meringue, good silky palate, very long and harmonious. Very detailed. 
Score – 97/100
Drink – 2027-2070+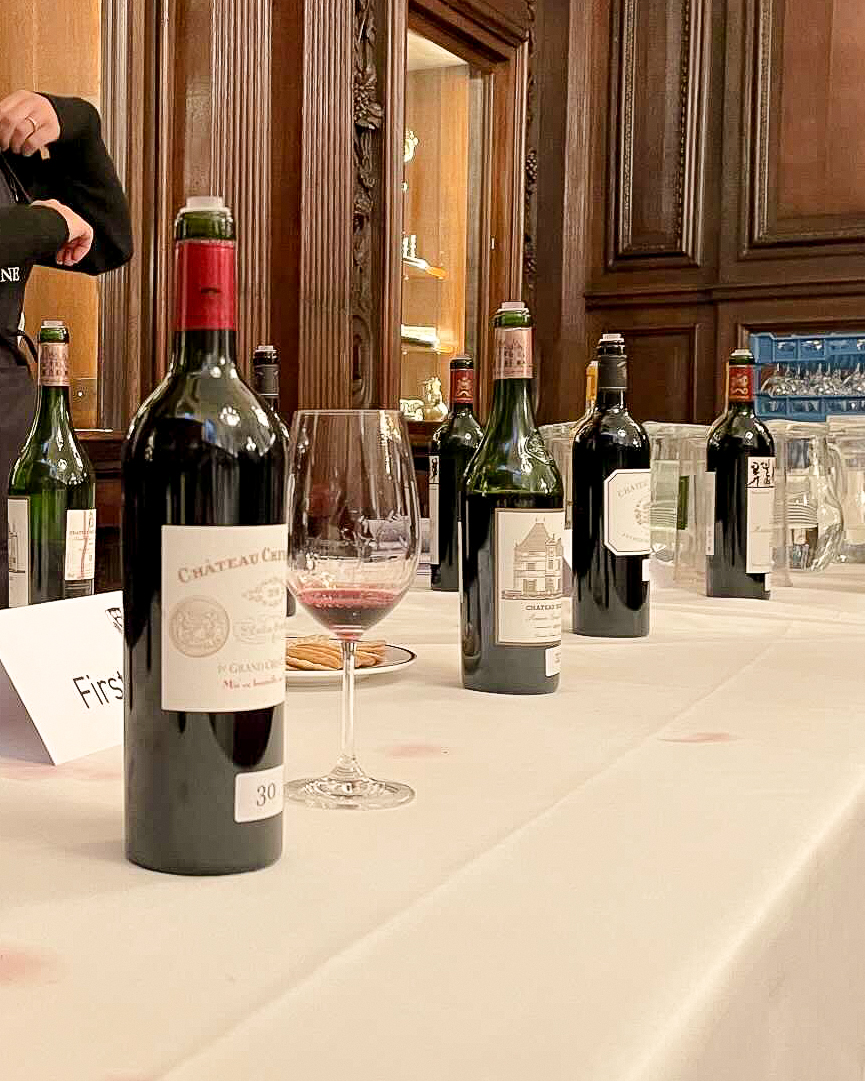 ---