By Jerome Gardener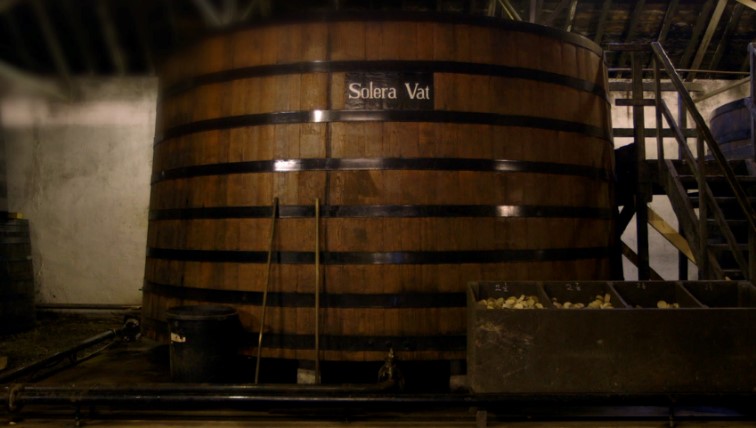 The Solera Vat system at Glenfiddich is something that is unique to the distillery. No one else has yet succeeded with this method for whisky production. The vat is essentially made up of three different 15 year old whiskies from various cask finishes that marry together to create the ultimate 15 Year old single malt Scotch whisky. The solera system was developed by the Spanish and Portuguese as a method of aging wines such as Madeira and Sherry. It uses fractional blending to result in product consisting of a number of ages.

 
Glenffidich uses the general idea of this aging system, but do it in a huge vat. Whilst the vat is filled from the top, the whisky is always drawn from the bottom. It is filled at least three times a year, this way the vat is always half full.  Whilst the youngest whisky in the vat is 15 years old, there is also a potential that it could contain much older whiskies.
The different cask types are refill American oak, new American oak and sherry wood. Now, what percentage of each finish do they use to make the final whisky? There are just a handful of people that know this secret, they aren't giving any clues either. We had a go ourselves alongside Mark (Mark Thomson – the UK brand ambassador for Glenfddich by the way) at reconstructing the whisky by blending its individual components together.
So, the results! Some folk had too much sherry in their blend, some had too much refill, whilst few were very close indeed! (We don't really know the actual breakdown though do we?). However Mark had an idea that it would be close to 85% refill, 10% new American oak and just 5% Sherry.
Tasting note for the Glenfiddich 15 Year Old Solera Nose: Dark fruits, sherry, abundance of citrus, lemon zest and orange peel. Buttery, light nuttiness.
Palate: Sweet sherry, Creamy, peanuts and dried wood, subtle spice, fruitcake, raisins and more dried fruits.
Finish: Mocha, boiled sweets, more fruits and oak.