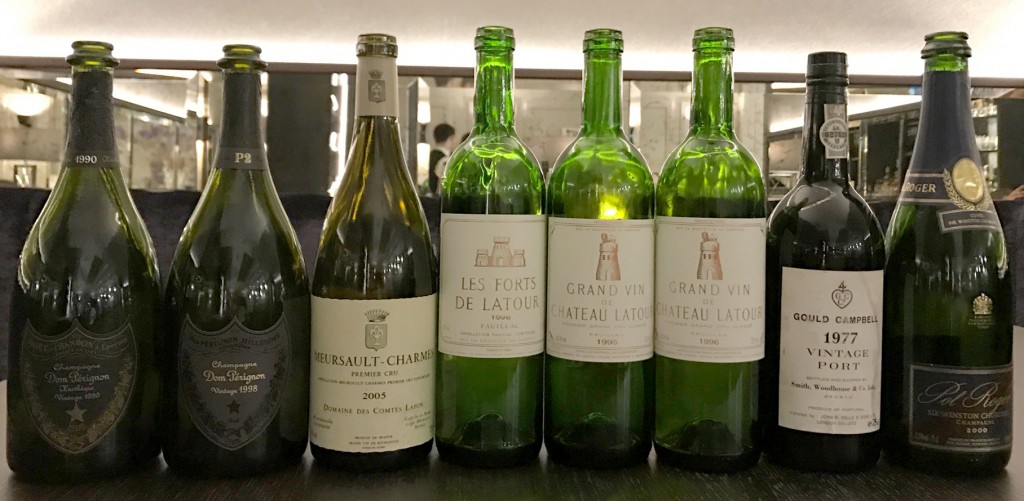 Richard's 40th birthday inspired a gourmet evening at Adam's Restaurant in Birmingham earlier this week. As usual the quality of the service, surroundings and above all food was outstanding. If this restaurant doesn't attain two Michelin Stars very soon I'll be astounded. 
We kicked off with a pair of DP's, 1998 P2, and 1990 Oenoteque. The nomenclature are different but they are the same wines from different vintages. Moët & Chandon decided to try for a more standout, and maybe easier to pronounce, branding for their super premium late disgorged releases of Dom Perignon. The first vintage being the 1998. There is of course a super super premium label P3, the 'P' refers to Plenitude, effectively a period of drinkability offering a different style, and as such wines are bottled with the required length on lees before disgorgement. Long term storage in the Champagne's deep cavernous 'Crayeres' keeps the wines fresher, supposedly, and this is an attribute one can expect when buying these late disgorged wines over the standard earlier release. This freshness was portrayed by our first bottle, the 1998, and this is a hallmark of this vintage in general. The initially obtrusive tight knit character gradually resolved itself to reveal a finely balanced, still youthful Champagne with tension, elegance and length. The 1990 was much more accommodating from the off with cappuccino aromas and toasty notes, a fab nose, the palate was delicious but certainly lacked the tension of the fist wine. As often happens, the last few sips seemed to line everything up very nicely.
Our next wine was paired with fantastic King Scallops from Scotland's Isle of Mull, wow what a combination of flavours in this dish, subtly curried baby roast parsnips picked up perfectly the spicy cinnamon tinged Meursault Charmes which was tighter than last time I encountered it. Mark explained that recent bottles had indeed been more expressive but this wine fanned out beautifully on the finish and opened up with time in the glass. Certainly years ahead.
The trio of reds which followed were fascinating, Mark and I knew the wines and order, but the other tasters unawares. We were looking for a wine which could work with a pair of Chateau Latour (Richard's favourite) vintages 1995 & 1996, fortunately N&P had a Les Forts de Latour 1996 which didn't have particularly great reviews but was bound to be an excellent foil for two vintages of Chateau Latour. In fact it showed brilliantly far better than Mark or I expected. In fact it showed up the 1995 Latour which lacked the shape and balance of both wines either side. Yes it had complexity and classic Pauillac character which will I am sure line up better in a few years, but the precision and text book Les Forts was in such a good place, it was difficult to see what more you could ask for to pair with an outstanding 100 year old beef dish.
Latour 1996 is an exceptional wine and was immediately dominant over the 1995, this superb vintage is still quite adolescent but certainly enjoyable at this stage. I think it needs another 5 years to highlight the finer details.
For me the Les Forts stole the show for being both perfectly ready now and relatively good value. Second wines of first growths do seem to carry a premium for their Maternal association and when set along side comparatively priced first wines from other great Bordeaux Châteaux they often fall short. The conversation picked up on the fact that in a great vintage like 1996 perhaps they are a solid recommendation, 2016 which approaches us, looks to be a good example with both excellent quality and excellent volume.
DP 1998 P2 pale, not overly open, some toast, touch of cork on the palate or  is it an earthy note, Great intensity into the back of the palate, fans out nicely, fresh and pin point still young with character too. 94/100
DP 1990 oenoteque, fine Bede, some gold, very toasty nose, cappuccino, the palate is fresh and creamy, nice fizz, the back of the palate runs a little dry, and light, it is a bit disappointing at the finish. 92/100
Charmes Lafon 2005
Clean and youthful, the nose is reticent, the palate is tight too, needs some coaxing but this is a powerhouse, layered and formidable, perfume gradually evolving, there is great concentration here, the tension is great, lots of spice on the mid palate, into the length with pear purée. This is fine. Very subtle. Powerful. 95/100, Drink 2010-2030.
Les Forts de Latour 1996
There is a faint amber, the nose is lovely earthy cedar, spice, lovely texture, soft generous, volume, the tannins are still here, leaving you enchanted, classic Pauillac nose, great acidity, lovely balance. 94/100, Drink 2004-2025.
Latour 1995
Deep purple, faint amber, the nose is haunting, more perfumed, soy, granite, the weight is impressive, lots of spice, texture, still plenty of time here, there is essence of Latour here quite classic, not too rich just calm and fascinating fruit. Doesn't quite have the precision of the third wine. 94/100.
Latour 1996
More closed than the first wine, with time it reveals plenty of sweet cedar and black currant, the style is more surly, this is more powerful there is more tension here, more grit. Lots of soy and freshness. It is a bit four square but the silk is here still, this is so well structured the life ahead is too far in the distance to judge. Metallic concentration. Great wine, 96/100, Drink 2025-2100.
Gould Campbell 1977
Very deep colour, the nose is stewed, Samson with a curried edge, super smooth, cool with lots of white pepper, delicious but lacks a little freshness now which leaves it slightly short. 91/100, Drink 1985-2030.
Pol Roger Winston Churchill 2000
Pale gold, apple on the nose, slightly stewed, the proportion here is impressive, lovely balance, great length.
By Will Gardener