The day we flew back from Bordeaux a colleague said to me that he had felt a greater sense of satisfaction and optimism last year than this year. I had some empathy with his comments having been battling with my own thoughts on whether we were tasting a great Bordeaux vintage or just a very good one.
 It is, I guess, about expectation. With the 2014's, against a rather skeptical set of early media reviews, we were pleasantly surprised to taste a vintage with some very promising wines.  Given the early pronouncements from the Bordeaux media machine, for the 2015s only the finest barrel samples would measure up.
In 20 years of tasting Bordeaux en primeur I don't think I have ever concluded an en primeur tasting week with this question still in doubt in my mind. Great vintages indelibly mark your memory with certainty – vintages such as 2000, 2005, 2009 & 2010. So, on balance, I guess the answer must be "no", 2015 is not universally a 'great' Bordeaux vintage.
But such is the complexity of this question, and it is probably a futile one anyway, as we know there are no great wines only great bottles so the idea of extending this generalization to the breadth of an entire Bordeaux crop is surely inappropriate.
What we can categorically report is that some estates have produced monumental wines in 2015, and unique wines which will delight Bordeaux lovers sooner than they might have expected. Also this is a vintage which will show significant gains from barrel aging, and lift many wines from very good to great.  There is much to be optimistic about but selection remains key.
 Vintage characteristics
The style of the vintage is feminine, refreshing, elegant, seductive and vibrant. These are not, on the whole, big bruising monsters though they are built to last. In the same way great Pinots seem to age for ever, longevity does not need to come from enormous structure, it comes from balance and harmony, these characteristics we found time and time again.
Burgundian was an adjective I used of all places at Cos D'Estournel, a chateau whose wines have been known in some vintages, such as 2009, for huge concentration. The skill of a wine-making team is to retain and reflect the best characteristics of the fruit they are blessed with, having let Mother Nature do its bit with their given terroirs.
The Merlot grape has been particularly successful benefiting most from the climatic vagaries in September and October. Cabernet Franc and Cabernet Sauvignon were also exceptional at many estates particularly those with superior drainage and where the precipitation was less prevalent. The Right Bank and Graves regions are exceptional and with the added embellishments of a year in cask are destined for greatness. The pinnacle probably in Pomerol, VCC was a revelation. Saint Emilion is also very fine, possibly superior to 2009 at several estates, though many will ultimately fall short of the off the charts 2010.  There will be some great value to be had from lesser known estates in Saint Emilion and Pomerol as well as from the satellite communes of Lalande de Pomerol, Fronsac and Cotes de Castillon.
2010 was the benchmark year for the Graves region, and whilst it would be difficult to ascertain the same level in 2015, it could well be that this vintage will give more pleasure, in its immediacy and charm. On several occasions I had an unerring feeling that you underrate this vintage at your peril with our final visit at Chateau Haut Brion certainly set the cat amongst the pigeons, an extraordinary range!
The Medoc is much less uniform and rarely hits the same dizzy heights. We could be witnessing however, the birth of a very fine Margaux vintage. The level is consistently very high and this is where the word homogeneity can be used.
 Factors affecting the style of the vintage
2015 was overall a very dry year with hydric stress a major concern in July. August brought welcome relief, rejuvenating the water table and unblocking the evolution. By this time, when veraison, the change of colour, takes place, the berry size had already been set, small with thick skins, this is where the vintage's tell-tale ripeness and silky textures come from.
The harvest conditions were ideal, again generally dry with cool nights, helping shape the vintage's freshness and aromatics. The Merlot crop would be picked in ideal conditions and at the vigneron's leisure, aiming for optimum ripeness per plot. Many of the top chateaux now have the currency to dissect and elevate dozens of different plots independently, all helping to improve the final assemblage. At Cheval Blanc we spoke with Pierre Olivier Clouet, the technical director, who explained that they had taken practically a whole month to pick, the result being almost every plot at perfect ripeness. Each plot is fermented separately. Barrel samples of each are blended together in many different combinations and tasted blind to select which blend works best for the first and second wine. The final assemblage for the first wine, consisted of all the plots except two which were ultimately discarded and sold off in bulk. And so for the first time since 1988 there will be no second wine at Chateau Cheval Blanc, a tribute to the overall consistency and quality of the harvest.
This is extraordinary scenario but a familiar tale in this vintage, in general the percentage of first wine was comparatively at most chateaux and so there should be good volumes.
Two properties which stood out for me are deeply embroiled in bio-dynamic viticulture. Chateau Pontet-Canet and Chateau Palmer. Here the yields were quite low, 30 hl/ha and 37 hl/ha, this is due to the vines being allowed to find their own natural vigour. According to Jean Michel Comme, the technical director at Chateau Pontet-Canet, green harvesting, the cutting back of shoots to reduce the number bearing fruit, is an artificial way of reducing yields and sends signals to the vine roots to compensate and quicken growth. This creates a confusion and imbalance. It takes several years to correct this and it appears according to the quality of the wine here that a naturally low yield is preferable to a manipulated one. At Chateau Palmer Thomas Durroux explained that they had gradually reduced the yields over a number of years before implementing the bio-dynamic philosophy, and were happy to see the lower yields maintained.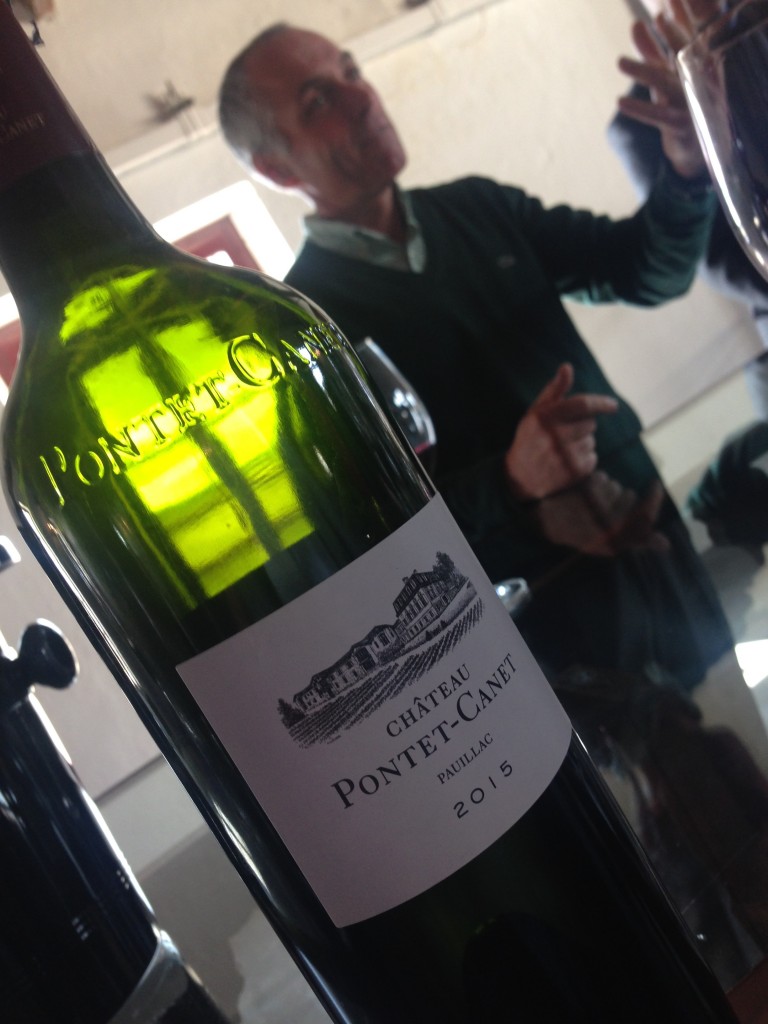 Chateau Pontet-Canet 2015
Tasting notes for Chateau Pontet-Cantet 2015 (decanted and poured from carafe)
Very deep purple, the nose is very intense, very perfumed, meaty, violet, slight metallic edge with intense orange marmalade too. The palate is very silky and sizeable, rich, lovely rhythm here, so elegant on the finish. A classic Pauillac, great finesse, this is lovely for me very classy with lots of energy low yield with no green harvest. Above all complex. First growth quality this year bravo. Probably the finest I have tasted from this biodynamic estate. 95-98/100 2026-2050
Chateau Palmer 2015
Tasting notes for Chateau Palmer 2015
With the success of the Margaux appellation and the promise of the Merlot crop, we were anticipating good things from our visit to Chateau Palmer. We were not disappointed. The high proportion and quality of the Merlot combined with naturally low yields has returned a sensational result.
50% Cabernet Sauvignon 44% Merlot 6% Petit Verdot
Nicely deep plum, the nose is more closed, but still revealing complexity, with a underlying richness, soft mints, the texture here is very impressive just sits and unfolds, dense, palate, very ripe tannins. This has mesmerizing and harmonious power and elegance, stands out for a Chateau Palmer and for the vintage, leaves the palate very fresh and alert.  96-99/100 2025-50
Should we buy this vintage?
Demand for Bordeaux wines has improved this year so far, the prices have found a firm floor. Reduced and more reasonable en primeur pricing has worked acceptably well in the last three vintages, though it is too early to validate for the 2014's which will not land until next year. With current exchange rates falling against the Sterling I suspect they will look to have been a good buy.
There are other valid reasons to buy en primeur other than price but with the fallout from the Bordeaux wine market collapse in 2012 still fresh in the memory, leaving consumers in negative equity for their 2009's, 10's & 11's, it is paramount that market prices are considered when pricing these new wines.
We did hear some snippets of good sense on our rounds but almost unanimously talk on this subject is met with a Gallic shrug.
The market will take an increase and I think we can expect one, 10% would be fair but 20% disappointing, any more than this with weak sterling could be regretful.
A much increased task force was sent out to Bordeaux to taste this vintage. There were much bigger groups from the key merchants, whereas one or two  representatives had be sent to assess the wines in the previous three or four vintages, this year even the office cleaner had turned out.
This of course sends a clear message to the chateaux. Bordeaux wines are still of great interest to merchants and their customers.
If the wines are released at anywhere near the 2014 prices they will get snapped up and there will be an active secondary market. This is good for the trade and consumers but not for the chateaux. Many of the top chateaux will be happy to sit on these wines. We did hear that there is likely to be a very restricted first tranche, hopefully it will be sufficient to service clients who bought last year. We also heard that the Americans are primed and ready to launch…
Given the nature of the vintage, you need a merchant who has experience in en primeur tasting and one that you can trust, both in terms of selection and the ability to ensure delivery of your purchase in 2 years' time. We remain at your disposal to discuss any of your questions and requirements.
Will Gardener
Managing Director