The North wind doth blow and we shall have snow
And what will poor Robin do then, poor thing?
He'll sit in a barn and keep himself warm
and hide his head under his wing, poor thing.
Alternatively sit in N&P's cellars with forty or so friendly folks, Imbibe some hearty red wine and put the colour back into his cheeks.
Our cellars were packed out this chilly evening with enthusiastic customers looking forward to sampling a great range of volumptuous red wines from around the world.
February is N&P's grand sale, so on top of our usual great value, there are extra savings to be had for those of you unable to make it to the tasting evening; here's what people thought:
As usual, James had put together a selection whichenabled everyone to compare and contrast different styles and explore some food matching ideas.
First on taste was Inspira 2010 Cabernet Sauvignon from Chile.
This is a bright young thing, with red fruits, soft tannins and  a clean, well-balanced taste.
Surprising everyone with its price tag- just £6.75 in the N&P Sale.
From South Africa, next up was the 2004 Glenelly Hill Stellenbosch Bordeaux Blend.  As the name of the blend implies, this somehow tasted more "European" than "New World", with its thoughtfully put-together blend of Shiraz, Cabernet Sauvignon, and  Merlot grapes.  ull mouth feeling, but with impressive length, this – while stocks last – is even more of a bargain at £9.60 down from £13.99
The fusion of Frank Mitolo's knowledge of the land and business acumen and Ben Glaetzer's winemaking talent has resulted in Mitolo being one of Australia's most awarded wineries. Overlooking the coast, the vineyard in McLaren Vale has heavy grey loam over sandstone soil with black cracking Biscay clay. Cool afternoon breezes and nights from the proximity to the ocean help produce good acid levels and complex flavours.  Juicy, spicy, with notes of coffee and cedarwood.  Very popular at £11.58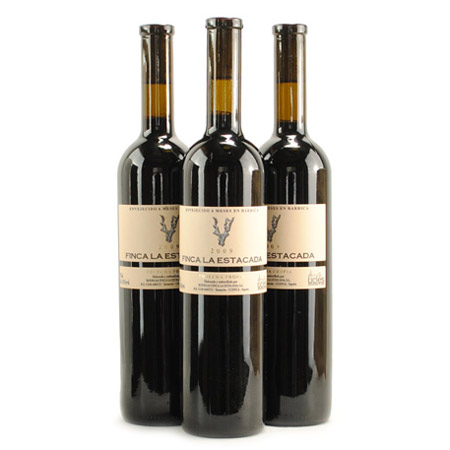 We have come across a real gem with this new range of Spanish Reds from
Finca La Estacada.
The fruit is vibrant, and they are characterful whilst brilliant value for money. The Cantarero-Rodriguez family run the Finca, from a
5 hectare estate called 'La Estacada' in the historical village of Tarancon. The wines are recognised as Vinos de la Tierra de Castilla which releases the highly skilled team from the highly regulated DO System. With low rainfall, high altitude and poor soil the factors for the production of fine wines is reflected in the winery's philosophy "the creation of our winery is to raise the profile of quality wines at reasonable prices."
at £5.64 that's outrageously good value!
This estate is part of the co-operative at San Marzano and the wines are made by Filippo Baccalaro. As a result, they are fresh and clearly varietal. The label shows a Puglian version of the fable, the Fox and the Grapes, where, unlike in Aesop`s version which gives rise to the expression `sour grapes`, the fox never gives up because the Puglian grapes are so good. Established in 1962, the San Marzano co-op has over 1,000 members whose vineyards cover a huge area, spread over a wide variety of different terrains and microclimates.  Spicy, black cherries, long finish, another well-balanced an interseting wine at £10.62
Finally, we tatsted The Domaine Moulinier Saint Chinian Les Sigillaires is a complex wine made from 70% Syrah, 15% Mourvedre and 15% Grenache. The yields are very low giving a full textured palate with velvety tannins and excellent length.  This was so popular on the night that we sold out.  The good news though, is that there is more available soon.  A snip at £10.20 down from £12.50
Hurry while stocks last!