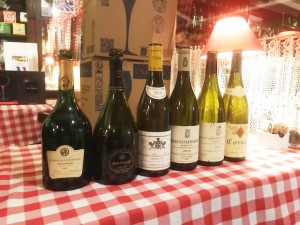 A very enjoyable evening at the French Connection Bistro in Stourbridge, now under the management of the enterprising Ross McGilliot, gave us a chance to see how fine wines endure the extremes of the modern day, British summertime climate. Considering that we sat outside with a cold beer to start with and the temperature was a stifling 39 degrees, it is not surprising that the whites, particularly the Champagnes shone, on this occasion.
We often taste blind and a pair of Blanc de Blancs certainly baffled all and sundry. When comparing one tends to look for clues in the differences and they were there for sure, the first wine 'Taittinger Comtes 1998′ was assured with obvious but not heavy evolution, Woody was on the right track suggesting the 1995 or 6 vintage. Callum picked up the Mocha and correctly detected it as a Blanc de Blancs but like me thought the second wine, Dom Ruinart 2002, was still heavy on the Chardonnay but with a good dollop of Pinot in the blend. This was more complex and luxurious than the Comtes but perhaps not as fresh and precise. Nothing between these beauties.
For the whites the Genevrieres 2010 from Comtes Lafon was stunning right from the off and was not to be done down by the assumed superiority of the Grand Cru 2010 Bienvenues Batard from Domaine Leflaive which was not quite chilled enough and suffered a little, showing almost too much of a generous relaxed nature. Certainly impressively concentrated and complex but for sheer exhilaration the Meursault was beating it's chest.
The reds proved a little more difficult to decipher, I managed to recognise the first wine as a Cote de Beaune, but its definitive Pinot Noir character was far from obvious. It had a slightly deeper than average colour and seemingly youthful expression. Comtes Lafon is more highly reputed for its whites, and that comment is justified, but this 2002 Volnay Santenots is obviously has longevity, and stood up well to the Parker 100/100 Cornas. The legendary Auguste Clape is a master of the Syrah varietal, and firm recognition of this grape variety was only really nailed by Dave who picked up on the black olive tapenade character, not to be dragged over to Bordeaux like most of the rest of us. With hind site it's obvious and the aptness of the old adage 'trust your first instincts' was underlined here again. It could have been a big Merlot from Pomerol, hinted at by Rich, but from the warm terroir expression and the fact that Mark revealed it as a single varietal, we should all have been back over in the Rhone if not somewhere else more obscure.
Thanks to all concerned for another fab wine night!
The Wines
1998 Taittinger Comtes de Champagne
Still pale for its age, very fine persistent bubbles, a proper cafe hit on the nose, gun flint, apple puree, this is still quite strict and narrow, great control and restraint. There is grip on the finish, lemony still quite young for a twenty year wine and it will evolve symbiotically for a while yet. Quite delicious with an admirable freshness and vigor and a sweet concentration. Initially served very cool which showed its character well. 95/100 now – 2025
2002 Dom Ruinart Blanc de Blancs
Still quite pale here with golden hints, quite a delicate but pure nose, fresh with a hint of toffee caramel but just enough, still a bit of tannin here and extract/grip, salty even, spicy. There is weight and texture on the palate. Super balance. Enough softness to suggest a decent bottle age certainly 15 years ish. Marmalade coming through after a while of air exposure, very pure, not super acidic. This is a delicate wine, elegant, and particularly exciting on the finish, fanning our beautifully. I think this will show a bit more yet, but certainly in a happy place already.
2010 Meursault 1er Cru Genevrieres Comtes Lafon
Still pale, the nose is very intense and smoky, with a petrolly sense, gun flint, this immediately radiates a sense of a very fine White Burgundy. The palate is very creamy, round and spicy, with an intense limey backdrop, long and still youthful. The tension is exciting, along side a sense of purity and generosity and you just know there are layers here to unravel over the coming years and it has a pretty incredible length. Shows the quality of a stunning vintage. Very enjoyable already but will go on improving for a decade. 96/100 now – 2040
2010 Bienvenues Batard Montrachet Domaine Leflaive
The colour is a little fuller than the Meursault, the nose is riper, with warmer scents, quite perfumed, initially served a tad warm it comes across as generous and relaxed, with a sense of breadth and dimension. The acidity is maybe a tad lower than you might expect from the brilliant 2010 vintage, but certainly it fans out as you would expect, with minty and salty notes. Very impressive and less closed than expected. The silk here is profound, almost chewy with lots of glittery flecks. Starting to open up and well on the way to its apogee. 94/100 now – 2035
2002 Volnay 1er Cru Santenots Comte Lafon
This appears quite youthful but there is a slight touch of amber with a pale rim. Cherry notes on the nose, brambles and undergrowth. There is little heat here on the nose too, with plenty of spice. The palate is cool, with lots of tension even austerity, with a slight earthy character on the finish. The vibrancy of the fruit comes through after a while, there is purity here and finesse. The texture is fine, raspberry notes come back. The juicy palate lingers very well. Tasted blind this had a very youthful sense, and I suspect this will keep evolving in the right direction for several years yet. Equally the tightness maybe more akin to a lack of generosity,worth holding for a few years but a fine Pinot expression. 93/100
2010 Cornas August Clape
Quite deep in contrast to the Pinot tasted along side, the rim is quite youthful, the nose is not quite tight and deep with a spicy menthol character. Wow the palate is super rich, and textured, there is a sense of vigor with a juicyness aligned with a decadent warm climate richness. The finish is long and meaty, with a black peppery edge. The violets on the nose are beautifully pure as the aromas evolved in the glass. This has a long life ahead and needs a few years yet to unravel its burly style. 93/100
Best Regards
Will Gardener