Update: Earlier this week we were fortunate enough to attend an elaborate tasting for all of Michel Chapoutier's 2012 Sélections Parcellaires, held at London's prestigious Institute of Directors (May 13th). We tasted through the full range of single vineyard wines from this vintage, from the Rhône and other regions (more details to follow in a separate post). This post however is dedicated to a brief introduction to Chapoutier and the ethos of this growing estate, and perhaps more importantly to our first-hand opinion of some of the finest wines to be produced in the most exceptional appellations of the Rhône in 2012.
 'a vintage of greater structure and body than the 2011′
John Livingstone-Learmonth
Maison Chapoutier has been cited as the most famous and influential of French wine brands, attracting immense interest from consumers at all levels.  Its top wines grace the cellars of international collectors, and adorn the catalogues of the world's most discerning auction houses.  Such a reputation derives predominantly from the Herculean efforts of the current charismatic and indefatigable proprietor Michel Chapoutier.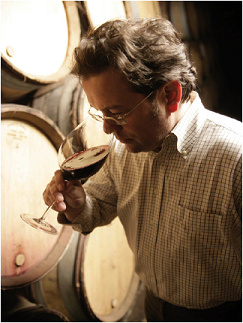 For those who regularly follow developments in the wine trade, the name Michel Chapoutier will be familiar; admiration and controversy in equal measure.  M. Chapoutier has an unparalleled understanding of terroir, and in particular the diverse soil types and micro-climates to be found in the Rhône. His own tireless efforts to bring out the best that his land in this region has to offer builds upon a family tradition of wine-making in the area dating back to 1808.  Both Michel's skills and the Rhône's potential find their ultimate expression in the Sélections Parcellaires, or the single-vineyard unofficial Grand Crus of the Rhône.
This knowledge and understanding paid dividends in 2012.  It is no secret that the year was widely recognised as a tough vintage in France's wine-making heartland.  That being said, about 10 months ago those with links to the Rhône began reporting a certain smugness among the region's producers (noted by Jancis Robinson), a feeling which derived from their collective sense of relief at having been spared from the worst of the year's weather affecting their neighbours in Burgundy and Bordeaux.  Nevertheless 2012 in the Rhône was not without its challenges, and it took the best of many producers to create an average vintage.
It was in this context that the talent and expertise of Michel Chapoutier came into its own. His ability to express the best of each terroir and vintage enabled the creation of wines which are the utmost manifestation of the fundamental and essential characteristics of the Rhône's premium vineyard sites.  The Rhône is subject to a multitude of climatic influences and soil types, and each of the following wines from individual named plots ('lieux-dits') provides a striking testament to Michel's ability to harmonise and balance these influences, even in less than ideal vintages, towards the ultimate expression of each unique terroir.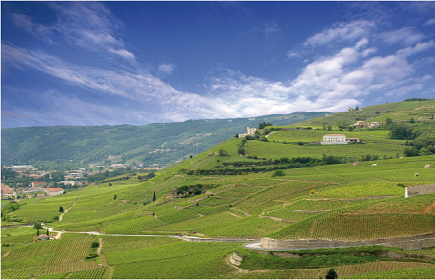 The Chapoutier motto 'fac et spera' – 'do and hope' was tested but ultimately successful; 2012 satisfied Michel's exacting criteria for the ideal vintage – one which allows the character of the soil to come through.  Maison Chapoutier foregoes a 'house style' for this reason. It was this dedication to expressing terroir which led Michel to employ only biodynamic techniques in his vineyards from 1991.
The following wines are always produced in limited quantities; even in high yielding years there have only been a maximum of 700 cases produced.  Because of 2012′s difficulties, yields were even lower than usual, meaning these wines are very limited in their availability, and demand for them is extremely high.
All are available In Bond on an En Primeur basis. We also have large format bottles of these wines available. Select back vintages also available. If you are interested in prices for these please contact josh@nickollsandperks.co.uk.
'That's a lot of wine'.
Michel Chapoutier 13/05/2013
With 20 wines to sample, the tasting was a formidable yet exhilarating undertaking. The following wines are all from lieux dits in the Rhône. More detailed notes and scores for each will be available on our website (click the images to view products on the website) . In order of tasting…

NB: All of these single vineyard wines are also deliberately made from single varieties in order to be ultimate expressions of terroir (Michel cited the finest wines of Burgundy as inspiration). Tasting notes are our own; Jancis Robinson's notes on some of these wines can be found on our website. Her full review can be found here: http://www.vitabella.fr/wp-content/uploads/2013/06/Chapoutier-SP-JancisRobinson.com-030613.pdf
The whites: Overall very fresh, inviting, and yet complex. They were underpinned by a beautiful mineral streak. Given the qualities of the 2012 vintage, there was also an intriguing saltiness to their minerality, which bolstered the ever present aromatic component and gave a lasting vigor to their respective finishes.
Saint-Joseph Blanc 'Les Granits' 
100% Marsanne.
Notes: the nose is medium-pronounced, with a lightly honeyed character behind lychee and apricots; some elevated floral notes drift subtly from the glass. The palate is broad and weighty, but not unctuous this time. White stone fruits and lychee dominate, with slight apricot notes and some spice. Distinguished above all by a saline minerality which carries through the mid palate giving it a refreshing, almost perfumed finish. 16.5-17/20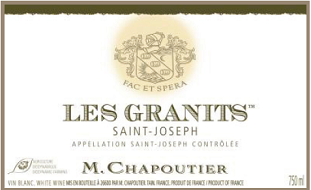 Ermitage Blanc 'Le Méal' 
100% Marsanne.
Notes: the nose is fuller this time but still quite taut, with stone fruits and the slightest greenish, vegetal hint. Honeyed melon with hints of almond come through with time. The palate has more weight and an almost oily texture, mainly stone fruit flavours with nectarine and some citric notes verging on the tropical. Marsanne began to flex its muscle here with a more rounded, spiced finish. The ever present minerality was nutty as opposed to salty in this case. 17/20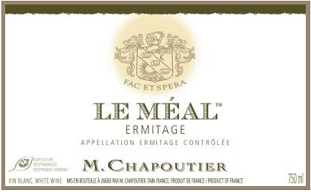 Ermitage Blanc 'De L'Orée' 
100% Marsanne.
Notes: noticeably more restrained on the nose, dominated as it is by vegetal notes and savoury minerality. Full bodied now on the palate with a fat, slightly savoury mid palate with faint hints of lychee and honeyed melon. Tropical fruits and dry spice come through in time. Remarkably long and textured on the finish. 17/20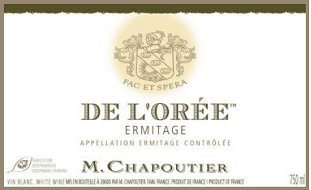 Ermitage Blanc 'L'Ermite' 
100% Marsanne.
Notes: a pronounced and perfumed nose, bolstered by granitic smokiness and complexity. Aromatic and complex. On unctuous palate there is a vast amount going on; needs some time for its components to become more defined. However honeyed fruits are prominent in the attack, salinity supports the sappy mid palate and spiced tropical fruit forms the body of the impressive finish. There is also a pleasing dryness that comes through at the end. 17.5-18/20
100% Viognier.
Notes: boasts an intense, perfumed and elevated nose of stone fruits and white flowers. A little time a in the glass allowed the aromatics to sing, bringing out orange blossom and zest, with a surprisingly attractive aroma of light furniture polish developing. The palate is rich and creamy, but not sappy as it is knit together by a tense salinity, bolstering the fruit flavours of Fuji apple, honeyed citrus and banana leaf. Great textural complexity here. 18.5-19.5/20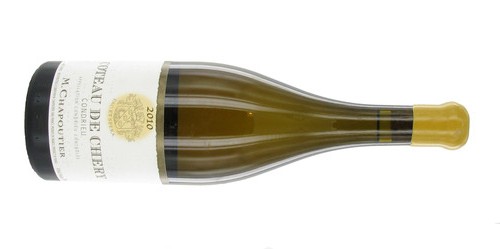 The Châteauneuf-du-Papes: Not huge wines but they are crisp, edgy & aromatic, and even at this early stage they hit the mark for this expression of Grenache and are at the same time surprisingly open and easy to drink. Barbe Rac perhaps needs just a little more time for the tannins to even out completely.
Châteauneuf-du-Pape 'Croix de Bois' 
100% Grenache.
Notes: profound on the nose, smoked meat over dark berry fruit. A crisp medium-rich palate of stewed plums and black pepper. Velvet smooth but with a refreshing vine-dryness accompanying the underlying minerality. Firm peppery tannins bind the wine together on the finish. 17/20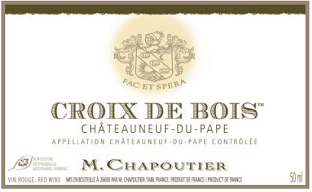 Châteauneuf-du-Pape 'Barbe Rac'
100% Grenache.
Nose: less giving than the Croix de Bois but deeper and less coarse. Promising for the future. Smooth, balanced and full bodied on the palate, beginning with powdered berries with riper black fruits coming on the mid palate. Flinty minerality is present and carries it through. Sweet spice and vanilla there on the finish, however so is a slight vine-stem character which needs a little more time to integrate. 16.5-17.5/20.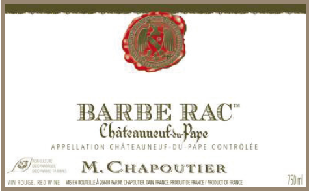 Crozes-Ermitage 'Les Varonniers'
100% Syrah.
Bears a deep nose of smooth red berries, blackcurrant and vanilla, with black pepper coming through in time. The palate is medium to full and very smooth with just ripe red and black fruits and a strong peppery element. An earthy savouryness develops mid palate and combines with a pure minerality for a beautifully crafted granite inspired finish. 17/20.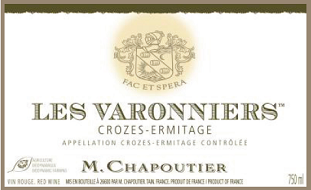 Saint-Joseph Rouge 'Les Granits'
100% Syrah
The wine's gorgeous granite-based aromatic character was signaled as soon as it was poured, by its very prominent aromas of blackcurrant, flint and gunpowder minerality. Subtle hints of black pepper. Palate is full and silken, raspberry and redcurrants dominate, touches of black pepper among the powdered, smooth tannins. Develops a luscious inky liquorice character on the lengthy finish. 18.5/20.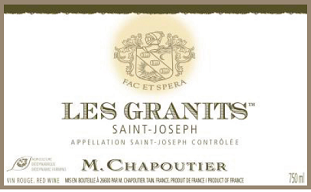 Saint-Joseph Rouge 'Le Clos'
100% Syrah
Its aromas are just as forthcoming as 'Les Granits' but the are more austere and savoury, with slightly viney aromatics and pepper dominating. Its spicy character is more dominant on the palate and its tannins are dryer, yet its blackberry fruit still comes through nicely, the palate is refreshingly taut and the finish surprisingly poised. 17.5/20.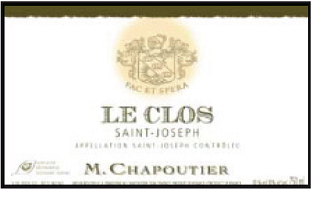 Côte Rôtie 'La Mordorée'
A note on Côte Rotie: At the tasting Michel made a compelling case for the sub-classification of the Côte Rotie as a result of its wide variety of soils, aspects and light exposures. Viognier is not added to Chapoutier Côte Rôtie wines.
100% Syrah
A restrained black fruit nose but inviting with slight mineral aromatics. Stands out for its textural smoothness in the mouth. Its bramble fruits are rounded off well by slightly dry tannins and hints of pepper. Bright acidity and a smoky character on the finish add interest. 16.5-17/20
Again Chapoutier bucks the trend by refusing to blend across parcels in his Ermitage wines…
Ermitage Rouge 'Les Greffieux' 
100% Syrah
Profound savoury aromas of bacon fat, granite smokiness and vine stem emerge around a core of raspberry fruit. Ripe red berries are present on the medium to full palate. Not very giving but impeccably balanced on the mid palate with black fruits coming in. A spicy, dry vine stem character lingers on the finish. Some promise for the future. 16-17/20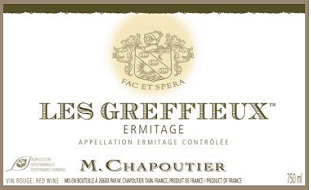 Ermitage Rouge 'Le Méal' 
100% Syrah
More subtle on the nose, with slightly spice powdered red berries and a slight savoury-vegetal tinge. With time this develops into darker fruit with smoked meat aromas and pepper. The palate however is deeper and fuller, with darker fruits, less austerity and more fruit on the finish. However the palate is still restrained at this stage and there is a slight astringency tinge at the end. Certainly one to watch. 16.5-18/20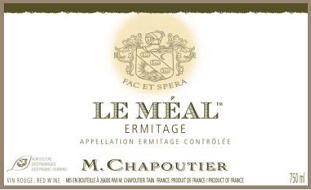 Ermitage Rouge 'L'Ermite' 
100% Syrah
Slightly more elevated, elegant and aromatic in tone from the previous Ermitages, though with an attractive core of blackcurrant skins and ink on the nose. On the palate the wine is beautifully structure around dark fruits and sweet spice. Tannins are ripe and well integrated. The wine's excellent minerality builds up over time to give stunning purity on the finish. 17.5-18.5/20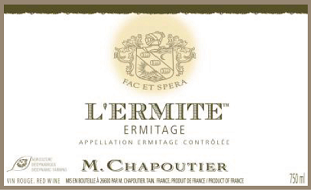 Ermitage Rouge 'Le Pavillon'  
100% Syrah
A deeper, inkier nose with granite, ripe blackcurrants and smooth liquorice. The palate is characterised by a wonderfully complex core of pure dark fruits, yet it is the incredible richness of the wine that sets it apart. Marvelously, in spite of its weight it is perfectly balanced and boasts impeccable poise. 18/20.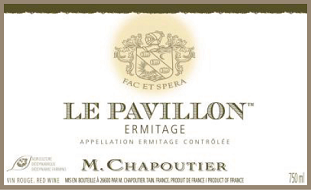 All of the above wines are hand-harvested by a dedicated harvesting team as late as possible to ensure maximum ripeness and quality of fruit. The Syrah is typically aged for 14-18 months in 50% new and 50% one year old oak casks. Grenache is vat aged for 14-16 months, and the Marsanne is fermented in 50% new oak, and undergoes lees contact for 8-12 months. The wines are unfiltered.
*A note on Marsanne. Michel waxed lyrical about the benefits of Marsanne, and of all this praise perhaps the most important observation of his was that due to the variety's natural bitter oils, wines made from Marsanne achieve decent ageing potential in spite of their relatively low acidity.