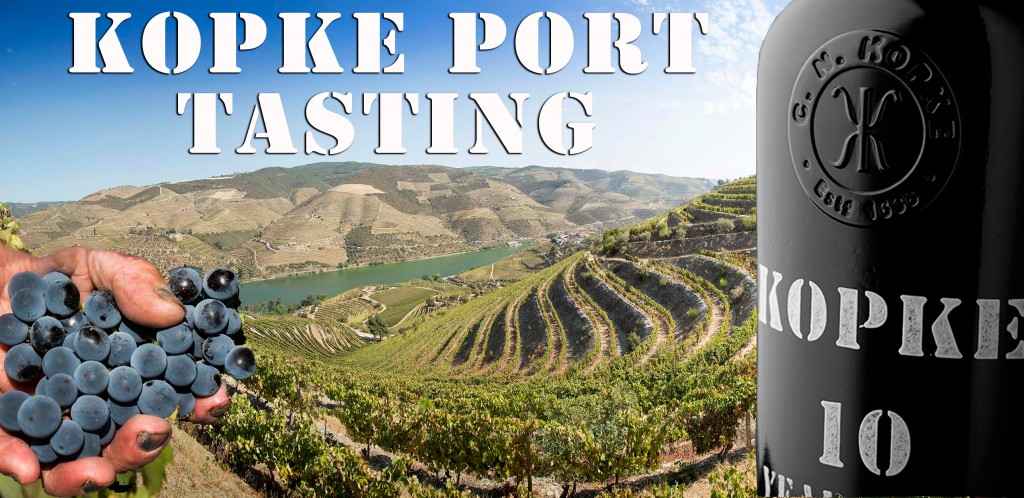 The House of Kopke is the oldest Porto wine export firm, established in 1638 by the Germans Cristiano and Nicolaus Kopke.
They have established an enviable reputation for their range of cask-aged and bottled-aged ports, some produced from vines that are over a century old.
We were therefore delighted to be hosting this tasting, presented by Kopke's Export Manager, Joao – he is a great ambassador for the ports and has a tremendous knowledge as his family have been involved in the Port industry for many years.   The distinctive Kopke bottles we learnt, still have the details hand-stencilled onto them.  But what were the contents like?
This was the medal-winning line up:

Rosé Port – We served this chilled, as an aperitif with fresh strawberries; although sweet, the Rosé Port is not cloying.  It has a fresh aroma, noticeably fruity and floral and with a dry finish.  This would also work well as the main ingredient of a cocktail, or with ice and tonic.
£13.85 for 50cl bottle
10 Year Old White -   Produced from a blend of 5 white grapes grown in the Douro, this beautiful wine is matured in wood barrels in a similar way to traditional Tawnies. However, this unique product actually averages 15 years of age.  The resulting wine has an attractive golden colour. Complex, spicy aromas of dried fruits and elegant wood notes. Smooth and round tasting, with intense dried fruit flavours. Excellent finish. Served lightly chilled, a versatile wine at home pairing with sweet or savoury dishes – we tried it with Armoretti biscuits and white chocolate.
Concours Mondial de Bruxelles 2015 • Silver medal
International Wine Challenge 2015 • Bronze medal
£19.65 for half bottle (37.5 cl)
10 Year Old Tawny – Nutty aromas are followed by a soft and sweet style of wine. It has just enough acidity and wood aging to keep it vibrant. Sweet fruits and molasses flavours give a smooth, attractive and fresh wine.
Fine nose of toasted almonds with butterscotch & honey. Smooth, unctuous and very tasty…I liked this Kopke for the textural pleasure and pure nutty flavour that led to the persistent aftertaste.
Paired with roasted and natural almonds and semi-hydrated figs.
Decanter World Wine Awards 2015 • Gold medal
International Wine Challenge 2015 • Bronze medal
£18.25 for half bottle (37.5 cl)
30 Year Old White
Intense nose of great complexity, rich nuttiness with layers of honey and dried fruits. In the mouth it is unctuous with a long finish. There is a beautiful balance to this wine We enjoyed it with figs and Dark pistachio chocolate.
International Wine Challenge 2015 • Gold medal
Sommelier Wine Awards 2015 • Gold medal
£43.00 for half bottle (37.5 cl)
By this time we were eagerly awaiting the range of Colheita Ports on offer.
Colheita Port is a single vintage wine fortified and aged in tawny style for at least seven years. Instead of an indication of age the actual vintage year is mentioned.  Where vintage Ports are aged in the barrel for only around 18 months and then bottled to continue maturing, Colheita Ports may have spent 20 or more years in wooden barrels before being bottled and sold.

Kopke bottle to order, from their massive barrels; you can see the bottling year on the label. Happily all N&P's samples were dated 2016, ensuring the wine had lost none of its freshness, allowing the subtle layers of taste and aromas gathered through the maturation process to shine through.
Colheita 1998  – The tawny colour is darker and richer than the white ports, as you would expect; there is a distinct nuttiness and rich caramel aroma – delicious with fruit cake and Comte cheese.
£35.00 75cl bottle
Colheita 1976 – The colour and texture is richer still, the aromas more complex with notes of walnuts, dried fruits and chocolate creeping in. On the palate there's a strong note of butterscotch and orange.  Lovely with aged Edam and St Agur cheeses and the remaining figs.
£80.00 75 cl bottle
Colheita 1966  –
Deep mahogany colour. Notes of wax polished wood, spiciness, nuts and raisins and a dash of coffee. On the palate, yet more of the above plus a blast of orange marmalade and honey. A little goes a long way – the finish lasts a long long time.
What a treat!
£120.00 75 cl bottle
Concours Mondial de Bruxelles 2015 • Gold medal
International Wine Challenge 2015 • Gold medal
Decanter World Wine Awards 2015 • Silver medal
That was supposed to be our complete Kopke evening, but when Joao noticed a bottle of Colheita 1957 , he didn't need to ask twice whether he should pour that too!
Despite its greater age, the 1957 Colheita  had a freshness to it, with gorgeous notes of oranges and lemons topping off the foundations of chocolate, dates, walnuts, raisins and sweet spices.
The finish lingered so long I wondered if it would ever fade; a remarkable finale to a fabulous evening, informative and entertaining in equal measure. Many thanks to Joao for guiding us through Kopke's remarkable range of Ports.
£186.00 75cl bottle
Concours Mondial de Bruxelles 2015 • Grand Gold medal
International Wine Challenge 2015 • Gold medal
Sommelier Wine Awards 2015 • Silver medal
Decanter World Wine Awards 2015 • Silver medal
Click here for Kopke ports currently available from Nickolls and Perks: